The streets of Jakarta, Indonesia, were closed today as Ducati Team MotoGP™ rider and former World Champion, Nicky Hayden, led a convoy of bikers through the city to mark the launch of the Shell Advance 'Enjoy Every Ride' global campaign.
The magnificent sight of more than 100 riders taking to the streets with Nicky to enjoy a ride around the city was something never seen before by the local community – who are big fans of MotoGP. The route passed several impressive local sights, including the Plaza Semanggi, eventually ending at Foundry 8 where Shell Advance unveiled the details of the new campaign.
"What a great experience to be in Indonesia for the first time! To ride through the streets of Jakarta as part of such a huge convoy was incredible, since I love bikes so much. It's all down to being part of the Shell Advance launch here; it's been great fun. It's really important to look after any motorcycle and good oil really helps you to enjoy it for longer. We use only Shell Advance in the Ducati MotoGP bike because it's the best for our performance on the track."  Nicky Hayden, Ducati Team MotoGP Rider.
As part of the launch, Nicky also joined 'scientists' to participate in Shell Advance's 'Punk Science' live demonstration where scientific beakers, flasks and test tubes were replaced with blenders, cocktail shakers, fruit juices and honey. Together, Hayden and the 'scientists' had some fun making cocktails to bring to life the various elements that go into making the superior RCE (Reliability, Control, Enjoyment) technology formula of Shell Advance lubricants.
"As a global leader in lubricants, Shell Advance ensures a lifestyle that enables riders to experience the freedom of the ride. The global campaign aligns with Shell Advance's commitment to be the trusted partner of bikers around the world  Shell Advance allows them to benefit from effortless mobility and to experience freedom in their day-to-day life, through increased oil reliability, bike control and enjoyment." Kuswantoro Pranabudi, GM Marketing, Shell Lubricants Indonesia.
The 'Enjoy Every Ride' campaign is complemented by a series of advertisement publications, including three television commercials as well as print and billboard adverts based on Shell Advance's 'freedom' concept. The advertisements will depict real bikers with a creative graphic illustration 'Yayy', which reflects the freedom and joy of the ride with Shell Advance lubricants.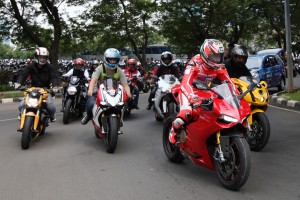 https://motorbugs.com/wp-content/uploads/Motor-Bugs-Logo-Transparent-height156px.png
0
0
The Motor Bug
https://motorbugs.com/wp-content/uploads/Motor-Bugs-Logo-Transparent-height156px.png
The Motor Bug
2013-04-11 04:09:26
2016-01-07 04:01:24
Nicky Hayden closes the streets of Jakarta to launch Shell Advance 'Enjoy Every Ride' Global Campaign