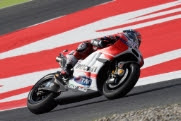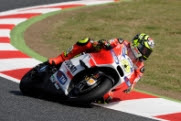 Andrea Iannone finished the Grand Prix of Catalunya, round 7 of the MotoGP World Championship held at the Montmelò circuit on the outskirts of Barcelona, in fourth place. The rider from Vasto, who started from row 4 in twelfth place, ran a good race and was able to move up the field into fourth, despite difficult track conditions.
From lap 5 onwards, Iannone started to chase down Bradley Smith, whom he passed on lap 21, and he then pulled out almost a three second advantage over the British rider by the end of the race.
Thanks to today's result, the Ducati Team man has now moved into third overall in the championship standings with 94 points.
Team-mate Andrea Dovizioso's race on the other hand was not so positive. After starting from row 2 in fifth, the Romagna-born rider got a good start to finish the first two laps of the race in third place, and he then moved up into second after Marquez crashed out. Andrea lost a place to Rossi on lap 3 and then crashed out on lap 6, due to a loss of grip in his rear tyre.
Dovizioso now lies fourth in the overall standings with 83 points, while Ducati and the Ducati Team are currently second in the classifications reserved for Manufacturers and Teams.
Andrea Iannone (Ducati Team #29) – 4th
"It was a very difficult race and in general this weekend has not been an easy one for us. We always tried to make improvements, but we struggled a lot and we were never able to achieve what we had set out to do and what we had been used to doing since the start of the season. I focused on doing a good race in these conditions, trying to obtain the best possible result without making any mistakes, because the track conditions were critical and the bike slid around both at the front and at the rear. I am not pleased with this fourth place, because I believe that we can aim for better results than this, but in any case I took home some more important points, I'm back in third in the championship again and I am satisfied with the way I managed today's race."
Andrea Dovizioso (Ducati Team #04) – DNF
"I'm really disappointed because two DNFs in a row is hard to accept. The track conditions were difficult for everyone, but we were in a position to get on the podium and it was very important for me to finish in the top 3 again. Today the two Yamahas confirmed that it's not easy to stay with them, but the Hondas were within our reach. I made a small mistake at Turn 4 and the bike went away from me more than usual, but it did it in a way that was so abrupt that I never even did a high-side. This had never happened to us before, and so we have to understand if we can improve the electronics so as to prevent this problem in the future."
Luigi Dall'Igna (Ducati Corse General Manager)
"It has not been an easy weekend for us. Dovizioso crashed while trying to stay with the leaders: this sort of thing can happen, but in any case it demonstrates that Andrea is determined to do well and that he always wants to try his hardest. Iannone ran a very intelligent race, especially if we consider that he started from twelfth place on the grid, and he succeeded in bringing home an excellent result, because the track conditions today were really difficult. In any case, our riders are third and fourth in the championship and Ducati is second in the Manufacturers' standings, so this is really positive."
https://motorbugs.com/wp-content/uploads/Motor-Bugs-Logo-Transparent-height156px.png
0
0
The Motor Bug
https://motorbugs.com/wp-content/uploads/Motor-Bugs-Logo-Transparent-height156px.png
The Motor Bug
2015-06-15 07:14:53
2016-01-07 03:50:19
MotoGP of Catalunya at Montmeló. Andrea Iannone finishes fourth and Dovizioso crashes and has to retire.