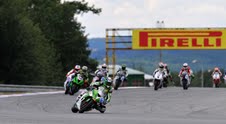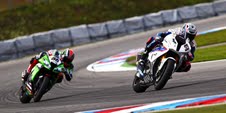 Brno (Czech Republic), July 22, 2012 – Marco Melandri (BMW Motorrad Motorsport) made a real play for the 2012 eni FIM Superbike World Championship title today by putting in a double win of the highest quality, overcoming Tom Sykes (Kawasaki Racing Team) in both 20-lap contests at the classically sculpted Brno circuit. This was Melandri's first double as an SBK rider and the first double for the official BMW team. In front of a three-day crowd of 63,129 and despite rain appearing in the morning, Melandri started from the second row in each race to overhaul long time leader Sykes. The English rider was full of fight at one of his favourite tracks, particularly in race two, but could not contain Melandri, who successfully pegged back the championship lead of Max Biaggi (Aprilia Racing) to a much more manageable 21 points, while in a historic day for BMW the German squad now heads the Manufacturers' standings, by two points from Aprilia.
Race 1
Melandri worked his way through from a mid-pack position in a race that started with many wet patches on the circuit, but finished in blazing sunshine. Sykes finished second and his team-mate, 19-year-old French rookie Loris Baz third, after a confident early few laps in tricky conditions. Any chance Sykes had of getting back at Melandri for the win was dashed when he and Jonathan Rea (Honda World Superbike Team) collided entering a corner near the end of the race and Rea crashed out spectacularly. Checa was fourth and Eugene Laverty (Aprilia Racing) fifth, with Biaggi a distant sixth. Another great ride came from Maxime Berger (Team Effenbert Liberty Racing Ducati) who led for some time in tricky early conditions and finished the race ninth at his team's home round.
Marco Melandri: "It was an amazing race. At the beginning everyone was careful because it was wet and they were on slicks. Then I was seventh or eighth but was catching the other guys and all I had to do was keep my rhythm. When I went in front with one lap and a half to go I just had to keep pushing without thinking of the others because I knew I was faster than them."
Tom Sykes: "It was a shame to not lead the lap that counts, but I'm happy to be back on the podium with Kawasaki. At Brno you spend a lot of time on the side of the tyre but we did a great job and came away with 20 points. Unfortunately we gambled at the beginning of the race with a softer front tyre so I wasn't able to attack the corners from 10 laps onwards, and when Marco passed me I had no answer."
Loris Baz: "It's great and I can't believe it! The race was just perfect for me, I knew we had a good pace in the wet so just tried to do the best possible. Then my race pace was quite good compared to the other guys, we just had some problems with the front. The last lap was not easy but I am really happy, the team did a great job".
Results: 1. Melandri (BMW) 20 Laps/108.060 km in 41'59.808 average 154.383 kph; 2. Sykes (Kawasaki) 1.360; 3. Baz (Kawasaki) 1.948; 4. Checa (Ducati) 2.494; 5. Laverty (Aprilia) 3.832; 6. Biaggi (Aprilia) 7.139; 7. Haslam (BMW) 11.293; 8. Fabrizio (BMW) 11.945; 9. Berger (Ducati) 18.988; 10. Smrz (Ducati) 19.117; etc.
Race 2
Melandri scored a historic double after winning the second 20-lap race, but only by a fraction. The Italian rider made a final pass on long time leader Sykes on the final lap and had just enough of a gap in the final few corners to make sure the English rider would finish runner-up, if by only 0.140 seconds. Checa had an eventual third place finish with championship leader Biaggi a lonely fourth. Laverty won a duel for fifth with Chaz Davies (ParkinGO MTC Racing Aprilia) and Leon Haslam (BMW Motorrad Motorsport) but was unhappy not to be able to challenge for a podium place.
Marco Melandri: "I'm living in a dream, it's a first time for me to get a double win! It's something amazing at this track where nobody expected these results. It's also fantastic to see BMW leading the constructors' championship and it makes me very proud. No one expected we could catch Max and I'm still 21 points behind him in the table but we have to think day by day and today I'm enjoying my day!"
Tom Sykes: "It's fair to say we made another big leap forward this weekend, but unfortunately Marco spoiled my day yet again. Hopefully payback is on its way! It was a big improvement compared to what everyone expects from us. Marcel and the team made a small change for race 2 and it played its part in keeping me consistent throughout the race so it was nice to prove a few people wrong."
Carlos Checa: "Overall it was a good weekend. Race 1 was very complicated in the middle of many riders so fourth position was a good result. In race 2 I started third behind Marco and Tom but till the end I was able to keep my position. Considering this track and that we lose a lot in acceleration overall they are good results for us."
Results: 1. Melandri (BMW) 20 Laps/108.060 km in 40'12.837 average 161.228 kph; 2. Sykes (Kawasaki) 0.140; 3. Checa (Ducati) 6.801; 4. Biaggi (Aprilia) 9.840; 5. Laverty (Aprilia) 11.775; 6. Davies (Aprilia) 11.950; 7. Haslam (BMW) 12.547; 8. Baz (Kawasaki) 13.088; 9. Camier (Suzuki) 18.141; 10. Fabrizio (BMW) 25.332; etc.
Points (after 9 of 14 rounds): 1. Biaggi 271.5; 2. Melandri 250.5; 3. Sykes 212.5; 4. Checa 204.5; 5. Rea 187; 6. Haslam 160; 7. Laverty 148; 8. Guintoli 110; etc. Manufacturers: 1. BMW 292; 2. Aprilia 290; 3. Ducati 276.5; 4. Kawasaki 218.5; 5. Honda 193; 6. Suzuki 72.5.
World Supersport
A red flag incident on the startline led to two starts for the 18-lap FIM Supersport Championship race at Brno, but even more drama was to come when the race was halted by another red flag a few laps from the end. Even though Fabien Foret (Kawasaki Intermoto Step) had just been passed by Kenan Sofuoglu (Kawasaki Lorenzini),  the French rider won on the count back to the previous lap, with Broc Parkes (Ten Kate Racing Products Honda) third. Fourth was Sam Lowes (Bogdanka PTR Honda) with Jules Cluzel (PTR Honda) fifth and Ronan Quarmby (PTR Honda) sixth, despite being the rider who crashed out.
Results: 1. Foret (Kawasaki) 13 Laps/70.239 km in 27'02.236 average 155.872 kph; 2. Sofuoglu (Kawasaki) 0.128; 3. Parkes (Honda) 0.434; 4. Lowes (Honda) 4.650; 5. Cluzel (Honda) 7.725; 6. Quarmby (Honda) 11.384; 7. Morais (Kawasaki) 11.934; 8. Cruciani (Kawasaki) 12.253; etc.
Points (after 8 of 13 rounds): 1. Sofuoglu 137; 2. Lowes 114; 3. Foret 108; 4. Cluzel 95; 5. Parkes 82; 6. Morais 62; 7. Baldolini 54; 8. Quarmby 54; etc. Manufacturers: 1. Kawasaki 176; 2. Honda 172; 3. Triumph 83; 4. Yamaha 66; 5. Suzuki 6.
Superstock 1000
Bryan Staring (Pedercini Kawasaki) won his second consecutive Superstock 1000 FIM Cup race after splashing through the rains in unstoppable fashion at Brno. He left Eddi La Marra (Barni Racing Team Italia Ducati) to break away from a group behind to try and hunt him down, but as the danger approached Staring upped the pace and finished 6.5 seconds up on La Marra. MRS Kawasaki rider Jeremy Guarnoni finished third, albeit 32 seconds behind Staring. Sylvain Barrier (BMW Motorrad Italia GoldBet) fell and no scored, which means that in the championship fight La Marra is now the leader.
Results: 1. Staring (Kawasaki) 12 Laps/64.836 km in 27'22.582 average 142.099 kph; 2. La Marra (Ducati) 6.577; 3. Guarnoni (Kawasaki) 32.390; 4. Brown (Ducati) 34.106; 5. McFadden (Kawasaki) 38.007; 6. Massei (Honda) 38.412; 7. Bergman (Kawasaki) 39.584; 8. Jezek (Ducati) 39.940; etc.
Points (after 6 of 10 rounds): 1. La Marra 94; 2. Barrier 75; 3. Staring 70; 4. Savadori 67; 5. Guarnoni 62; 6. Baroni 56; 7.Reiterberger 55; 8. Bergman 49; etc. Manufacturers: 1. Kawasaki 110; 2. Ducati 107; 3. BMW 103; 4. Honda 46; 5. Aprilia 16.
KTM European Junior Cup
Lukas Wimmer took the victory in the fifth round of the KTM European Junior Cup at Brno, his second race win of the season so far. He was only 0.295 seconds ahead of Spaniard Gaston Garcia and just over a second up on third place rider, Javier Orellana. Wimmer now has 70 points and the championship lead, Orellana is second on 62 and Christian Vidal has 48 points, in third, sharing that total with Jean Francois Demoulin.
Results: 1. Wimmer (KTM) 7 Laps/37.821 km in 16'14.885 average 139.663 kph; 2. Garcia (KTM) 0.295; 3. Orellana (KTM) 1.223; 4. Demoulin (KTM) 1.616; 5. Odegard (KTM) 8.411; 6. Pasek (KTM) 9.852; 7. Vidal (KTM) 15.100; 8. Patterson (KTM) 18.969; etc.
Points (after 5 of 8 rounds): 1. Wimmer 70; 2. Orellana 62; 3. Vidal 48; 4. Demoulin 48; 5. Garcia 45; 6. Wielebski 36; 7. Pasek 35; 8. Odegard 29; etc.
Coppa dei Due Paesi (Two-Nations Cup)
Denis Sacchetti (SD Rider Team Kawasaki) took a clear win in the Coppa dei Due Paesi race at Brno, from Olmo Spigariol (Way of Life Kawasaki). Third, and first of the Russian riders, was Sergey Vlasov (Yakhnich Motorsports Yamaha) from team-mate Dakota Mamola. In the championship Sacchetti has 45 points, Vlasov 27 and Mamola 26.
Results: 1. Sacchetti (Kawasaki) 9 Laps in 19'28.235; 2. Spigariol (Kawasaki) 2.258; 3. Vlasov (Yamaha) 3.444; 4. Mamola (Yamaha) 12.263; 5. Prasek (Yamaha) 12.529; 6. Dusek (Yamaha) 19.049; 7. Sangiorgi (Honda) 19.625; 8. Prosenik (Yamaha) 23.010; etc.
Points (after 2 of 3 rounds): 1. Sacchetti 45; 2. Vlasov 27; 3. Mamola 26; 4. Biliotti 25; 5. Vostarek 22; 6. Spigariol 20; 7. Sangiorgi 16; 8. Buccheri 14; etc.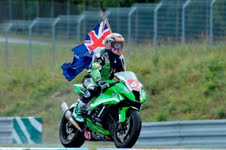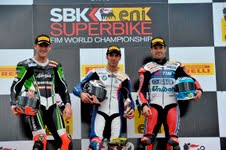 https://motorbugs.com/wp-content/uploads/Motor-Bugs-Logo-Transparent-height156px.png
0
0
The Motor Bug
https://motorbugs.com/wp-content/uploads/Motor-Bugs-Logo-Transparent-height156px.png
The Motor Bug
2012-07-24 02:41:00
2016-01-07 04:11:52
Melandri reels in Biaggi after assured double win