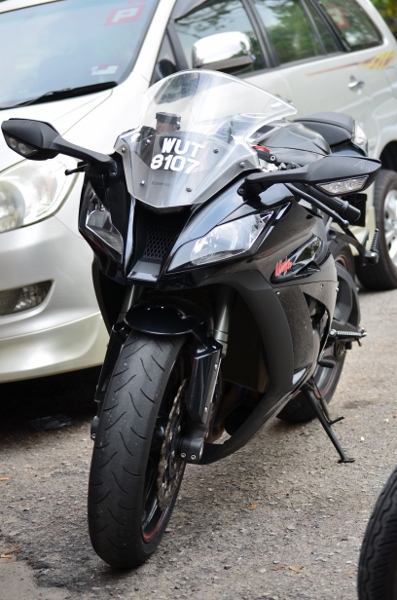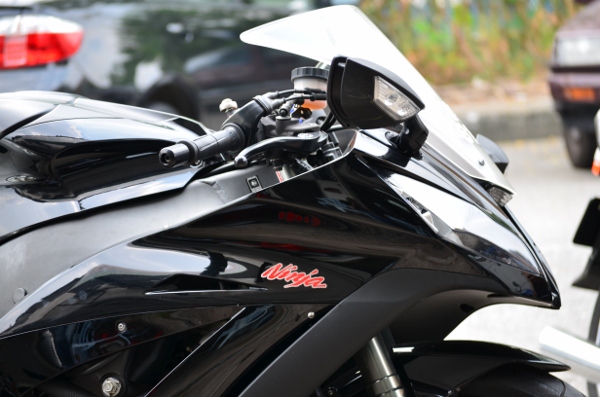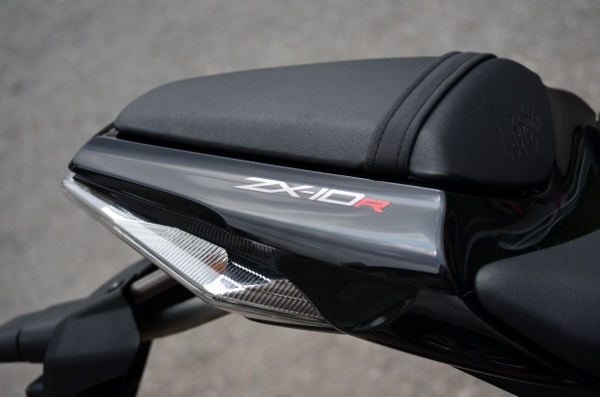 The 2012 Kawasaki ZX-10R is the first complete re-design flagship model since the Ninja ZX-10R's debut. It features a new engine, new frame and a new suspension. Loaded with cutting edge technology that comes in a sharp angular body with a narrow tail end.
The new ZX-10R comes with features like the new race-type traction control system (S-KTRC) and Supersports-grade ABS (KIBS). The Sport-Kawasaki Traction Control (S-KTRC) monitors the F/R wheel speed, engine rpm, throttle position, slippage, acceleration, etc. These conditions are confirmed every 5 milliseconds. There are 3 modes available (1, 2, 3), each able to handle a wide range of conditions (from dry circuit to wet city). There is also an option to OFF the traction control, providing an option for those experience riders who loves power slides and wheelies. I put the bike to test on a rainy day, err… more like a heavy monsoon shower and the bike performed well, even on those nasty slippery white and yellow stripes found on some highways. Going through puddle of water at 110Km/h and the bike did not even twitch (settings on the S-KTRC is at level 3 and the power mode at Low). I can feel the power reduced but the engine do sound a bit "stressed" even on 6th gear. Power mode, which is located on top of the traction control switch, also come with 3 settings. Low, Middle and Full. Both Power and Traction control mode can be set independently.
At about 201kg (10kgs lighter than its predecessor), this liquid-cooled, In-Line 4, DOHC, 16 valves, 998cc machine has some of the characteristic of a super tourer. The torque does not give you any surprises, like the unexpected G-force pulls when you hit the throttle but power, although comes instantly, is still manageable, smooth and consistent. Riding and handling the new ZX-10R on twisty roads is a joy, proving that the combination of centralisation of the engine position in frame, the horizontal back-link rear suspension and the new twin-spar aluminium frame is an engineering success for Kawasaki. The bike shift into every corners with ease and my lean angle is only limited to the size of my gut.
Brake feel is light and gradual, and ABS (Anti-lock Braking System) pulses are not noticeable when activated. Although the brake may not feel as hard as those found on non-ABS superbike, the ZX-10R, with dual semi floating 310 mm petal front and 220 mm rear disc, does its job well in stopping the bike, even on hard braking. Kawasaki claimed to have designed and equipped the bike with the world's smallest and lightest ABS unit, thus further reducing the overall weight of the machine.
The new instrument panel comes with LED-backlit Bar-Graph Tachometer which will flash when set rpm is reached. (Riders may set the shift indicator rpm according to preference) On the main LCD, there are speedometer, gear indicator, clock, Temperature, average and instant fuel consumption, Power and Traction control level indicator and dual trip meter. The cockpit comes with a build-in light sensor which automatically adjusts the brightness level.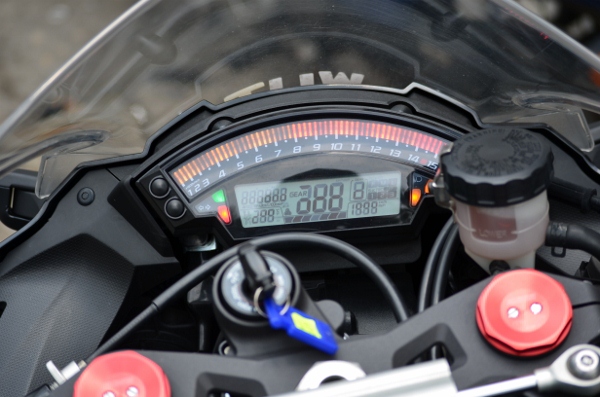 The new ZX-10R comes with a specially developed Öhlins steering damper to provide stable damping performance. Compression and rebound damping adjustments are located at the top of each fork tube.
The exhaust header pipes are made from heat-resistant titanium alloy and have almost the same length and diameter as that of their racing counterparts, thus reducing the need for owners to change the whole exhaust system.
The large pre-chamber contains 2 catalysers which reduces noise and contributes to mass centralisation. The end can looks like some art piece and may not grunt like those aftermarket cans, but with high acceleration, this bike can still growls and make heads turn.
Compared to its predecessor, seat height is now 813 mm (lowered by 17 mm) and the foot pegs moved 5 mm down and 2 mm forward. The adjustable foot pegs can be lowered a further 15 mm for a more relaxed position when street riding. The large openings in the fairing though may aid heat dissipation, but does affect me quite a bit on hot or those "stuck in the traffic jam" days.
Overall it is a very good bike for both track and street riding.
Other features of interest:
Side mirrors are well positioned and is integrated with LED type turn signal.
Fuel tank capacity: 17 litres.
Fuel system: Fuel injection: ø47 mm x 4 (Keihin) with oval sub-throttles, dual injection.
Tyre: Front: 120/70ZR17M/C (58W). Rear: 190/55ZR17M/C (75W).
Overall length: 2,075 mm
Overall width: 715 mm
Overall height: 1,115 mm
Wheelbase: 1,425 mm
Ground clearance: 135 mm.
Bike courtesy of Kawasaki Motors (Malaysia) Sdn Bhd.
https://motorbugs.com/wp-content/uploads/Motor-Bugs-Logo-Transparent-height156px.png
0
0
The Motor Bug
https://motorbugs.com/wp-content/uploads/Motor-Bugs-Logo-Transparent-height156px.png
The Motor Bug
2012-08-20 11:31:39
2016-01-07 04:12:08
Kawasaki ZX-10R (2012) Test Ride