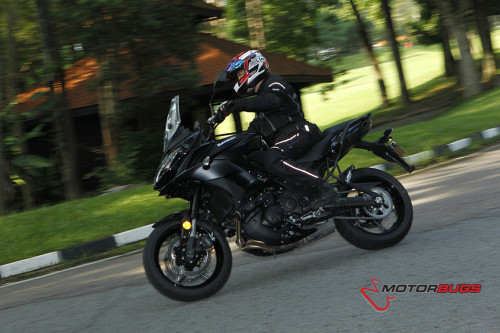 Kawasaki Motors (Malaysia) Sdn Bhd created a unique and memorable experience to unleash their much awaited 2015 Kawasaki Versys 650. The media from all over the country were invited to a 3-day (2 nights) Malaysia Press Invitation at the Pulai Springs Resort in Johor. KMSB arranged for the Media to depart on 14 June 2015 in a chartered bus from KMSB to Pulai Springs Resort.
DAY 1
Upon arrival, the Media were hosted with lunch followed by checking into their respective apartments at Pulai Springs Resort. There were certainly no rush at all as we were given ample time to rest and enjoy the resort facilities.
In the evening, KMSB kicked off the Kawasaki Versys 650 experience by ushering the Media to the convention hall greeted with a welcome speech by Dato' Jeffrey Lim, General Manager / Director Kawasaki Motors (Malaysia) Sdn Bhd and the big reveal of the all new Kawasaki Versys 650 by Mr. Julian Kong, Head of Marketing. After the presentation there was a Q&A session and then we adjourned to the resort's coffee house for dinner.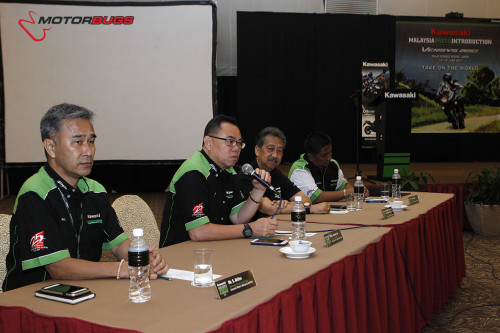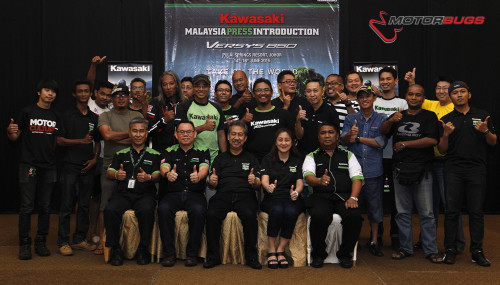 DAY 2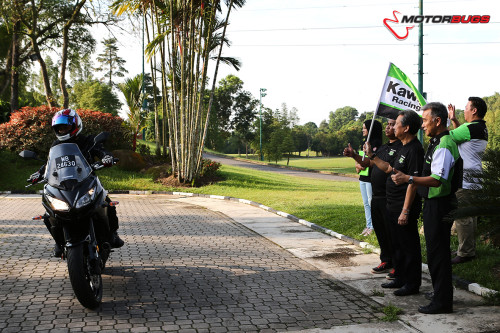 It was the much anticipated day as we have been waiting to get on the bikes and have the real Kawasaki Versys 650 riding experience. We started the morning off with a delicious breakfast and safety presentation from the Kawasaki Team. Before we got on the bikes, we went through a 5 minutes of warm up exercise conducted by one of the marshals. Then everyone walked out to the aisle where a most impressive display of 20 identical Kawasaki Versys 650 for the Media.
The ride was flagged off by the Executive Chairman of KMSB, Yang Mulia Raja Dato' Hanipuddin Bin Raja Dato' Nong Chik. The ride took us from Pulai Springs Resort and stopped at Yong Peng for refreshments. Throughout the ride there were photographers covering the entire journey where one of them actually rode pillion facing backwards. We stopped for lunch at the idyllic Kluang town. Then it was back on the bikes heading back to Pulai Springs Resort after covering over 250km. Upon arrival we were greeted with refreshments and then there was a Media Feedback session. It was free and easy after that but the Media were all over the bikes with their lenses covering all angles of its sexy new styling.
In the evening we were hosted with a lovely private BBQ dinner by the poolside. It was an evening where the Media and the KMSB team shared their experience and aspiration.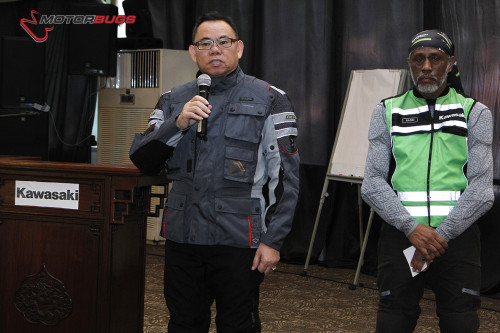 DAY 3
After breakfast we packed and boarded the bus that sent us back to KMSB office. It was a very quiet morning as we were sad to leave the Kawasaki hospitality and get back to the real world!
THE VERDICT
The older Kawasaki Versys 650 may not have the looks but it was an incredibly well rounded motorcycle with a lot of capabilities. And now, with a complete facelift and other upgrades, the 2015 Versys 650 has arrived, looking much more attractive than before. Even better, I had the chance to ride this Kawasaki in Johor, during its Malaysia Press Introduction.
Changes made to this new model include a new subframe that allows accessory panniers and a top case to be used. This will eliminate those unsightly brackets for panniers. A new 21-litre tank is two-litres bigger than before. The footpeg location has been altered (15mm lower, 20mm forward) for improved comfort. Other changes include a larger adjustable windscreen. Screen adjustability can be taken for granted on bigger tourers but seems like a welcome treat on a middle-weight. It slides up or down by 65mm and at its highest is level with the chin bar of my helmet. Adjusting it requires loosening two knobs on the front. You have to stop and get off but it's not a difficult operation. Restyling includes a new twin headlamp that contributes to the strong Kawasaki updated styling. A fully adjustable Showa fork and KYB shock with a remote preload adjuster are new, as is the complete braking system with new Nissin calipers front and rear, twin 300mm petal-style discs, and a larger 250mm rear disc.
The 649cc parallel twin remains unchanged, but alterations to the exhaust and ECU are said to improve top-end performance and fuel efficiency. More significant, the engine and handlebar are rubber-mounted to quell any vibes before they reach the rider. Twist the throttle fully open in first and that liveliness is an easy torque wheelie.
From the moment we pulled out of our resort, I was reminded what an agile machine the Versys 650 is. It was no challenge for the new Versys 650 dodging potholes, negotiating tight urban mazes, and sucking up bad pavement. All the while, you'll find that the ultra tractable parallel-twin engine is ideal for the point-and-squirt cadence of the city.
Out of the city, the leverage through those wide bars makes it just as easy hustle around bends on twisty B-roads, and it feels lighter than its claimed 214kg. The suspension is far better than I remember on the previous model, with firm yet forgiving damping and quickly adjustable preload out back. Wind protection is excellent. The windscreen can be fine tuned to eliminate buffeting via two adjuster knobs.
From the cockpit, the new hybrid analog/digital instrument cluster was easy to read, and it offers new features such as fuel range and an ECO indicator that tells you when you are riding like a hooligan.
The Kawasaki Versys 650 is a far superior urban weapon. As such, it remains a well balanced and totally versatile bike and that is why it is known as the SUV of motorcycles! Go to your nearest dealer now and get yourself the all new Kawasaki Versys bug!
Photographs : Courtesy of Kawasaki Motors (Malaysia) Sdn Bhd
https://motorbugs.com/wp-content/uploads/Motor-Bugs-Logo-Transparent-height156px.png
0
0
Nicholas Hah
https://motorbugs.com/wp-content/uploads/Motor-Bugs-Logo-Transparent-height156px.png
Nicholas Hah
2015-06-24 10:41:04
2016-01-07 03:50:11
Kawasaki Malaysia Press Introduction for the Versys 650