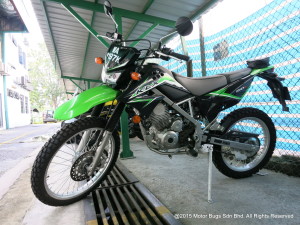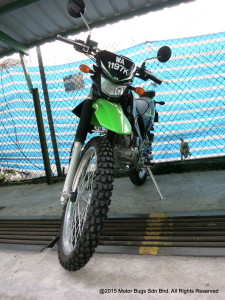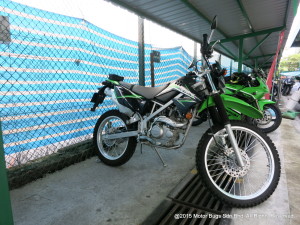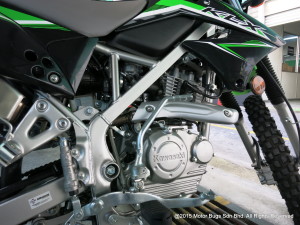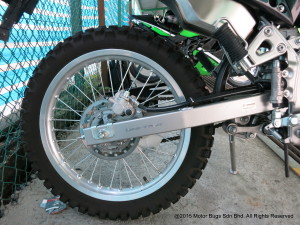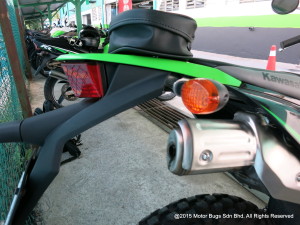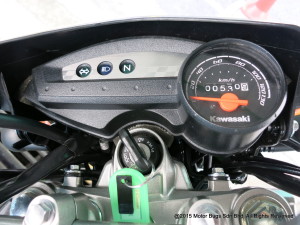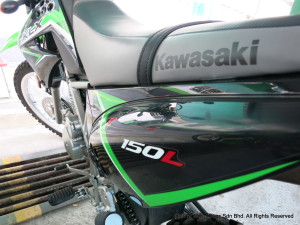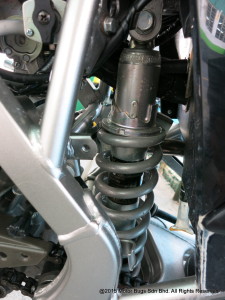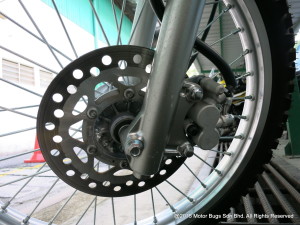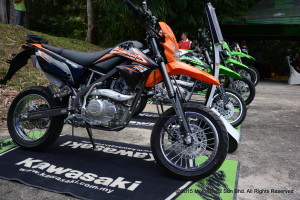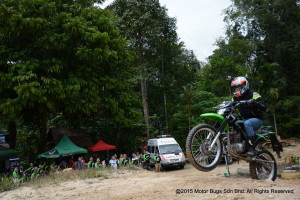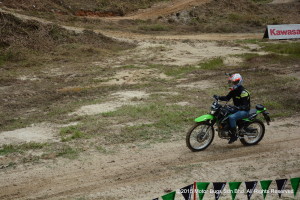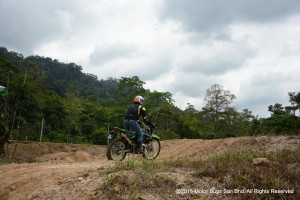 This fun trail bike is built on the strong KLX platform fitted with full size wheels (21" front and 18" rear) that will provide ample ground clearance suitable to conquer challenging conditions such as floods, potholes and rough terrains. The all new 2014 KLX150L is the perfect bike for the young at heart, with mild level of power, light handling and a fun attitude, it delivers a great riding pleasure. It is a fun bike and suitable for daily city riding or off-road trail.
The KLX150L offers a slim, compact package with low seat height, comfortable riding position, simple instruments and an ergonomically designed handlebar. It gives new bikers the confidence to ride and experienced riders the joy of owning a simple, durable and fun bike. The single 240mm front disc, pinched by a twin-piston calliper, offers a soft level of braking which Kawasaki may want to look into improving. The rear 190mm disc griped by a single-piston calliper has adequate stopping power.
The position of the Speedometer is too flat and the indicators (High Beam, Neutral and Turning) are not effectively "lighted" when sun is directly at the top. It would be good if the panel is tilted at least 45° towards the rider. The intensity of the headlamp is a little weak on dark roads and does not covers a wide enough areas. This really strains the rider's eyes to be aware of any road hazards. Although the heat from the exhaust is shielded by a plastic cover the heat still penetrates through and it is quite uncomfortable for the pillion.
The KLX150L is power by a 144cc, air-cooled, SOHC, 2 Valves-4 Stroke-Single Cylinder engine that generates a maximum power of 8.6 KW (12 PS) at 8,000 RPM and 11.3 Nm (1.2 KgfM) at 6,500 RPM. Combustion mixture via Keihin NCV24 Carburettor and it runs on a 5 speed transmission.
The KLX150L can be started either with a push ignition or with the conventional kick start. Starting the bike on any cold day can be assisted by the choke and the engine will fire up with no hesitation. For Off-road / trial riding, low gear torque is good enough to get you through gravel, mud, across Shallow River and even jumps through "table tops".
The KLX150L is not going to give you your speed fix or put the butterflies in your stomach into a frenzy, but it is going to get you from A to B reliably and in style, while also giving you the option of riding via checkpoint C off-road.
Words and photos by: Nicholas Hah.
Kawasaki KLX150L courtesy of Kawasaki Motors Malaysia.
https://motorbugs.com/wp-content/uploads/Motor-Bugs-Logo-Transparent-height156px.png
0
0
The Motor Bug
https://motorbugs.com/wp-content/uploads/Motor-Bugs-Logo-Transparent-height156px.png
The Motor Bug
2015-02-25 06:34:53
2016-01-07 03:54:47
Kawasaki KLX150L – TEST RIDE