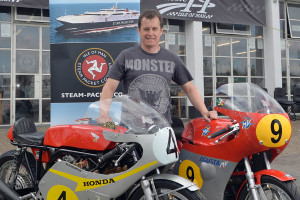 The Isle of Man Steam Packet Company has become an official sponsor of the 2013 Classic TT Races, which is part of the newly created Isle of Man Festival of Motorcycling.
The company will sponsor the 1967 Senior TT re-enactment, in which Mike Hailwood and Giacomo Agostini battled for victory before the Italian's chain snapped handing victory to Hailwood in one of the greatest, and most dramatic, TT Races of all time. Giacomo Agostini will be appearing on his own MV Agusta while John McGuinness will be representing Mike Hailwood and will ride a Mike Hailwood replica Honda owned by John Chapman.
John McGuinness, nineteen-times TT race winner commented:
"The parade lap is going to be a great honour for me, riding round with the fifteen times world champion and ten-times TT Race winner Giacomo Agostini, and as my chain snapped in 2009 I can relate to how he felt. We're planning to really get into the spirit of the parade with pudding basin helmets and goggles and are looking to put on a show on for the fans."
Trevor Hussey, TT and Motorsport Manager, Isle of Man Government, commented:
"We are very grateful for The Isle of Man Steam Packet Company's support, not only through the event sponsorship but also for the way that they have embraced the new concept and helped us to promote the event."
The parade lap, which takes place on Saturday 24th August, is part of a Sixties themed festival weekend that will see period costume, chat shows and large screens showing historic race footage.
It will take place after the 500cc Classic TT Race, which has attracted some of the leading TT riders and Classic racers. Further Classic TT races will take place on Monday 26th with the combined 350cc and 250cc race on Monday morning followed by the Formula 1, Formula 2 and Formula Classic race in the afternoon
The Vintage Motor Cycle Club, Manx Classic Car Club will all be running paddock displays along with priceless collections of racing motorcycles from the Yamaha Classic Racing Team, Team Classic Suzuki and Team Collins and Russell Kawasaki amongst others. The weekend also features the Ace Cafe Party on Saturday night, with the VIP hospitality unit handed over to the legendary North London cafe for live bands and DJ's, and the TT legends dinner on Sunday evening.
The Isle of Man Steam Packet Company is also supporting the visit of Piero Laverda, the son of the founder of Laverda motorcycles who will be attending the Classic T.T. and the VMCC Festival of Jurby along with works mechanic Fernando Capellotto.
Piero will be riding the Laverda V6 experimental works machine in the VMCC Closed Roads Parade lap on Saturday 24th August and will attend all of the VMCC classic events including being the Guest of Honour at the VMCC's Prize Presentation Dinner on Thursday 29th August.
https://motorbugs.com/wp-content/uploads/Motor-Bugs-Logo-Transparent-height156px.png
0
0
The Motor Bug
https://motorbugs.com/wp-content/uploads/Motor-Bugs-Logo-Transparent-height156px.png
The Motor Bug
2013-05-25 01:10:00
2016-01-07 04:00:49
ISLE OF MAN STEAM PACKET COMPANY BACKS NEW CLASSIC TT RACES