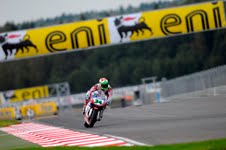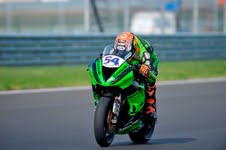 Moscow Raceway (Russia), Friday 24 August 2012 – The Althea Racing Ducati pairing of Davide Giugliano and Carlos Checa led the field in the eni FIM Superbike World Championship first qualifying session at Moscow Raceway with Giugliano setting the best lap so far of 1 minute 35.074 seconds. They each had a trip onto the gravel at one point of the session but ended their first day in the best possible positions in any case.
Sylvain Guintoli (PATA Racing Team Ducati) made it a clean sweep for the Ducati riders inside the top three, with the first four-cylinder machine being that of Marco Melandri (BMW Motorrad Motorsport) in fourth. Chaz Davies (ParkinGO MTC Racing Aprilia) carried on his strong form from the morning session to go fifth in qualifying and be top Aprilia rider on show.
Fastest Kawasaki man Tom Sykes (Kawasaki Racing Team) was sixth, while PATA Racing Team rider Lorenzo Zanetti claimed a fine seventh on a good day for the Ducati crews. Hiroshi Aoyama (Honda World Superbike Team) proved to be the fastest Honda man, in eighth place, having been inside the top four at one time.
Max Biaggi (Aprilia Racing) had a tough day and finished only 13th with John Hopkins (FIXI Crescent Suzuki) the first Suzuki rider in the day 1 rankings in 14th place.
The first qualifying session was held in dry conditions with overhead cloud making its presence felt, leaving air temperatures at a mild 18°C and track temperatures at 22°C.
Times: 1. Giugliano (Ducati) 1'35.074 average 148.848 kph; 2. Checa (Ducati) 1'35.284; 3. Guintoli (Ducati) 1'35.751; 4. Melandri (BMW) 1'35.772; 5. Davies (Aprilia) 1'35.828; 6. Sykes (Kawasaki) 1'35.905; 7. Zanetti (Ducati) 1'35.980; 8. Aoyama (Honda) 1'35.988; 9. Haslam (BMW) 1'36.039; 10. Rea (Honda) 1'36.061; 11. Canepa (Ducati) 1'36.143; 12. Baz (Kawasaki) 1'36.174; 13. Biaggi (Aprilia) 1'36.236; 14. Hopkins (Suzuki) 1'36.293; 15. Badovini (BMW) 1'36.326; 16. Fabrizio (BMW) 1'36.442; etc.
World Supersport
Championship leader Kenan Sofuoglu (Kawasaki Lorenzini) headed the first FIM Supersport World Championship qualifying session at the Moscow Raceway, the Turk setting a best time of 1 minute 37.875 seconds to head off the push of Bogdanka PTR Honda rider Sam Lowes by 0.304 seconds. Broc Parkes (Ten Kate Racing Products) was third with another of this year's top riders, Jules Cluzel (PTR Honda), securing fourth place before tomorrow's final qualifying session takes place. Local hero Vladimir Leonov (Yakhnich Motorsport Yamaha) was fifth and in the leading mix once more after impressing all during testing on Wednesday. Qualifying today was interrupted by red flags at one time and some spots of rain fell for a short while in sector one, but to no real effect on the lap times.
Times: 1. Sofuoglu (Kawasaki) 1'37.875 average 144.589 kph; 2. Lowes (Honda) 1'38.179; 3. Parkes (Honda) 1'38.398; 4. Cluzel (Honda) 1'38.434; 5. Leonov (Yamaha) 1'38.615; 6. Talmacsi (Honda) 1'38.888; 7. Foret (Kawasaki) 1'38.892; 8. Morais (Kawasaki) 1'39.050; etc.
Coppa dei Due Paesi (Two Nations Cup)
Denis Sacchetti (SD Rider Team Kawasaki) took the early advantage in the Coppa dei Due Paesi at Moscow Raceway, the Italian rider just edging out homegrown talent Sergey Vlasov (Yakhnich Motorsport Yamaha) by 0.033 seconds. Dakota Mamola (Yakhnich Motorsports Yamaha) secured third place in a field of 24, with Jenez Prosenik (Japi Racing Team Yamaha) fourth.
Times: 1. Sacchetti (Kawasaki) 1'43.681 average 136.492 kph; 2. Vlasov (Yamaha) 1'43.714; 3. Mamola (Yamaha) 1'44.793; 4.Prosenik (Yamaha) 1'45.488; 5. Rosivall (Yamaha) 1'45.645; 6. Kiselev (Honda) 1'45.829; 7. Sangiorgi (Honda) 1'46.127; 8. Orlov (Yamaha) 1'48.183; etc.
https://motorbugs.com/wp-content/uploads/Motor-Bugs-Logo-Transparent-height156px.png
0
0
The Motor Bug
https://motorbugs.com/wp-content/uploads/Motor-Bugs-Logo-Transparent-height156px.png
The Motor Bug
2012-08-25 10:00:15
2016-01-07 04:12:20
Giugliano leaps ahead at new Moscow track