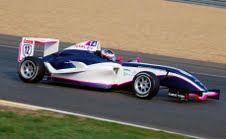 A SUCCESSFUL START TO THE SEASON FOR SIMON GACHET
Serious business got underway last weekend on the Ledenon circuit with the first challenge of the French F4 Championship. After some very good winter trials, which saw him constantly holding his own in the lead positions, Simon Gachet is one of the favourites.
He held his rank from the first practice where the "EUROFORMULA VOLANT" 2011 put himself forward when he made the second best time of the session. A performance he confirmed when he did it again with the second best time in the qualifiers: 0,010 seconds behind the first, raising high hopes for many victories!
From the start of race 1, Simon Gachet grabbed first place and kept it until the half mark of the race when he unfortunately span out. Back in fourth position, the "EUROFORMULA VOLANT" was determined to climb back but a small collision two laps later forced him to retire.
Avid fan of Fernando Alonso, Simon Gachet was not going to give up because he knows he has what it takes to climb onto the podium for race 2. That's exactly what he does crossing the line in second place of a race he had livened up throughout, just ahead of Victor SENDIN, the brilliant finalist of the "EUROFORMULA VOLANT" 2011.
The outcome of the weekend in Nimes was very positive overall even though his abandon in the first race left him with a few regrets.
Simon Gachet: "I am happy with my meeting as far as the level of performance is concerned but I am disappointed that I did a 360° in the first race when I was in the lead, I lost some big points. I got the situation back under control in race 2 and that's the most important part because I know now that I can fight for the championship and I will do all in my power to confirm that in the next race. I am really happy to be a part of the AUTOSPORT ACADEMY because I know I am going to learn a lot."
Laurent Fradon, the director of the EUROFORMULA School, is also satisfied: "Simon has always been in the front ranks and has shown his skill at speed. His slip up in the first race is one of those normal things but he livened up both races of this meeting and we are very happy with his performance. Simon also showed he has the mental strength, he has proven that he should be among the big favourites of the French F4 2012."
The date for the next challenge of the French F4 championship which will take place on the urban circuit of Pau is for the 12 and 13 May. Simon Gachet's aggressive style should allow him to get into the fight for first place!
https://motorbugs.com/wp-content/uploads/Motor-Bugs-Logo-Transparent-height156px.png
0
0
The Motor Bug
https://motorbugs.com/wp-content/uploads/Motor-Bugs-Logo-Transparent-height156px.png
The Motor Bug
2012-05-02 04:52:01
2016-01-07 04:24:28
FRENCH F4 CHAMPIONSHIP 2012