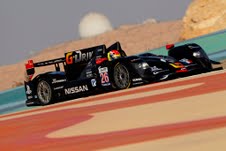 NELSON PANCIATICI: MY KINGDOM FOR A LIGHT!
It was on the Bahrain circuit, in the crushing heat, that the whole G-Drive Racing by Signatech-Nissan team met up for the sixth challenge of the FIA World Endurance Championship (WEC). Nelson Panciatici and his teammates, Pierre Ragues and Roman Rusinov, were on route to victory when the Race Director pulled them in to the pits because of a faulty race number light on the right side of the car. Conclusion, nearly seven minutes lost and all hope of victory evaporated! Despite all their efforts, they finished the 6 hours of Bahrain in a very disappointing fifth place of the LMP2 ranking.
After having mostly worked on tyre wear during free practice, the G-Drive by Signatech-Nissan put Roman Rusinov in charge of the qualifiers where he finished in a very nice seventh place.
For the race Nelson Panciatici was once again fast and reliable, taking the lead in the LMP2 class in his first relay clocking some great times before he set the third best time of the race in his last run in which he also overtook two cars!
Nelson: "It's really frustrating because we had all the means to win. The positive point is that we took the lead in the LMP2 category before we had to return to the pits to fix the number's lighting and we were getting results. Damien, our engineer, improves the car for every race, she is "easy" and fast and if success is on our side, we should have a win before the end of the year. Personally, I am still getting traffic experience and I'm getting better in every race. I always get a lot of pleasure driving the endurance races."
Philippe Sinault, the boss of the G-Drive Racing by Signatech-Nissan is also very disappointed:
"I am disappointed and upset! We could have won. We really had the performance and we were up there battling with Starworks and Pecom. Our strategy was perfectly adapted to the race conditions. I found the officials' decision very unforgiving. The race number was more than 80% visible, only a few light cells at the bottom of it were defective. I see it as an injustice because the number was visible. We lost the race because of that additional stop and I'm really disappointed especially considering the excellent work put in by the team and the drivers."
The next meeting, the 6 Hours of Fuji in Japan, will be fought out on the 13 and 14 October on the fast circuit of the Fuji Speedway!
https://motorbugs.com/wp-content/uploads/Motor-Bugs-Logo-Transparent-height156px.png
0
0
The Motor Bug
https://motorbugs.com/wp-content/uploads/Motor-Bugs-Logo-Transparent-height156px.png
The Motor Bug
2012-10-03 01:38:18
2016-01-07 04:02:01
FIA WORLD ENDURANCE CHAMPIONSHIP – ROUND 6 : 6 HOURS OF BAHRAIN