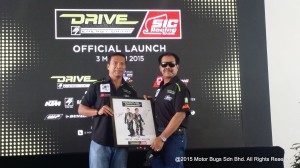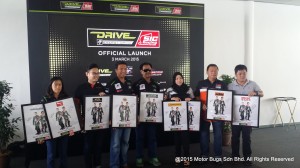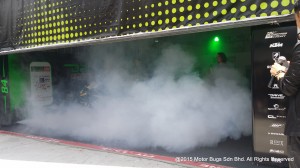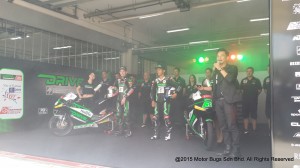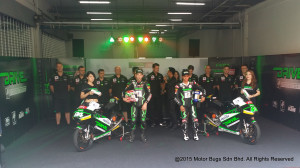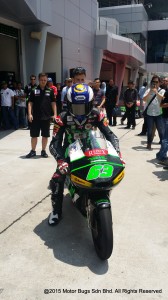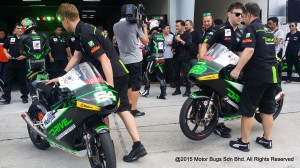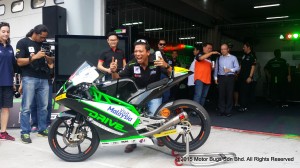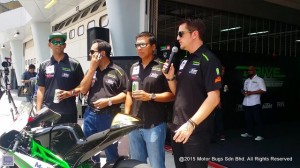 DRIVE M7 SIC RACING TEAM is the latest addition in the Moto3 of 2015 MotoGP. The launching of the team in Sepang International Circuit (SIC) was filled with high enthusiasm from its sponsors, press and guests. Amongst those present at the launch was the team's brainchild – SIC CEO Datuk Razlan Razali, along with representatives of the team's sponsors and partners. The Riders, Malaysian Zulfahmi Khairuddin and Czech ace Jakub Kornfeil were also introduced after which they did 2 laps on their new bikes much to the approval and excitement of everyone present.
Representing the owners of Drive M7 Energy Drink, Mutiara Motors Group Sales and Marketing Director En.Mahathir Datuk Ahmad, said, "It has always been our vision and passion to see local teams participating and competing at the highest stage. We were elated when Dato' Razlan invited us to be a partner for the SIC Racing Team. We believe the team has a lot of experience and will offer stiff competition in the Moto3 category this year. It is a great honour for us to support our local team and also our local rider. Furthermore, collaboration with SIC gives us a lot of options to explore possibilities for our brands, namely Drive M7 Energy Drink and M7 Pro Oil, as they have many local and international events here at the Sepang International Circuit, as well as international brand name exposure as sponsors."
The prologue of the team in striking green and black dominated by title sponsors Malaysian-based Mutiara Motors Group via its popular Drive M7 energy drinks, M7 Pro Oil and other partners which includes the Ministry of Youth and Sports (KBS), Redox, RK Chain, Rudy Project, Puma, WP Suspension, Dunlop, and many others. Helming the team is team manager Johan Stigefelt together with Malaysian Moto3 star Zulfahmi Khairuddin and Czech ace Jakub Kornfeil leading the team's assault on the track.
The team is optimistic with backing from Drive M7 coupled with experienced riders Zulfahmi Khairuddin and Jakub Kornfeil and astride their KTM Moto3 race bikes to produce good results in this season. With 5 years of racing in Moto3, Zulfahmi Khairuddin said he is very happy riding for a Malaysian team and hope he will produce better results than previous years. Jakub Kornfeil who was 12th overall in the world championship last year is confident that they can do well in this season. Meanwhile, Stigefelt said he felt the team has got what it takes to make some noise in Moto3 and hopes to get some podium finishes and to be challenging among the top ten. Stigefelt is also happy that the two riders work very well together and are determined to show what they are capable of.
During the press conference, Datuk Razlan Razali was asked if there's any expectation from the team when the race comes to SIC and he said that, they are confident to do well as in 2012 where Zulfahmi qualified in pole and finished second on the podium on a similar machine, also seeing that it will be their home track with many home fans support.
The New Kid on the Block opens their Moto3 campaign on March 29 of the season-opening race in Qatar.
https://motorbugs.com/wp-content/uploads/Motor-Bugs-Logo-Transparent-height156px.png
0
0
The Motor Bug
https://motorbugs.com/wp-content/uploads/Motor-Bugs-Logo-Transparent-height156px.png
The Motor Bug
2015-03-09 10:33:01
2016-01-07 03:54:42
DRIVE M7 SIC RACING TEAM – New Kid On The Block in Moto3 2015