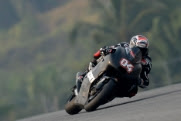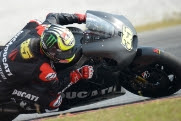 With less than one month to go before the opening round of the MotoGP World Championship in Qatar, a second IRTA test session for the Ducati Team has been getting underway today, again at the Sepang circuit in Malaysia, where the first test of the 2014 season took place at the start of February. Andrea Dovizioso and Cal Crutchlow took to the track on their Desmosedici GP14 machines to try out the updates brought to Malaysia for these tests and continue development work on the bikes.
After evaluating a number of different set-ups in his 47 laps on the track, Dovizioso found a comfortable feeling towards the end of the day. The Italian rider was then able to record his quickest time of 2m01.029s just a few minutes before the end, concluding today's session with an encouraging fourth place.
His team-mate Cal Crutchlow completed a total of 48 laps and his gap from Dovizioso was more than one second at the end of the day. The British rider however had a technical problem that did not allow him to take advantage of the new rear tyre he had just fitted.
The priority of the Ducati Team in this test is in any case to continue with the development of the GP14, and today's results, especially Dovizioso's improvement on a track that is not performing as well as three weeks ago, helped to confirm that the Italian team is working in the right direction.
Track time was also shared by Ducati Test Team rider Michele Pirro, who was able to try out some new components and electronics solutions. The best time of the Italian rider was not particularly significant as he was not aiming for quick laps, and he focused on his scheduled work programme.
Andrea Dovizioso (Ducati Team #04) – 4th (2m01.029s)
"We started the day when the grip on the track was not particularly good. We did some laps in the morning, but then worked better in the afternoon when the track improved. The first day was positive, because with what we tested we were able to improve the bike, both in the electronics and in set-up. Today we didn't have much new stuff to try, just different set-ups that seemed to work well. I had a really good feeling towards the end of the day, when I put on a good tyre on my final exit and managed to set a good time. Even though the times are not to be considered a reference point, I'm still pretty pleased with the improvement we made today."
Cal Crutchlow (Ducati Team #35) – 11th (2m02.319s)
"I'm not as pleased as Dovi, that's for sure, but we had a technical issue at the end of the day, and I was unable to capitalize on having a new rear tyre, unlike everyone else. If I had taken off one second like Dovi, I would have been very happy but at the moment we have a lot more issues than that. We're struggling to find a setting at the moment but we did confirm a few things from the last test. Tomorrow we really need to work on finding some rear grip because the track is worse than last time; the front doesn't feel too bad, but we need some more time to understand the bike in these different conditions. I'm not too worried, because we know we should be going faster with the new tyre."
https://motorbugs.com/wp-content/uploads/Motor-Bugs-Logo-Transparent-height156px.png
0
0
The Motor Bug
https://motorbugs.com/wp-content/uploads/Motor-Bugs-Logo-Transparent-height156px.png
The Motor Bug
2014-02-27 06:34:53
2016-01-07 03:57:13
Day 1 of IRTA test at Sepang for Ducati Team