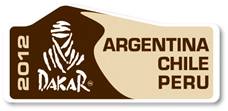 With three wins apiece, Cyril Despres and Marc Coma are tied in the roll of honour of the Dakar. But it is not a done deal that one of the two champions will forge ahead of the other in 2012: the Aprilia, Yamaha, Husqvarna and Honda pilots, as well as their KTM teammates, are ready to overtake them without the slightest hesitation.
Cyril Despres and Marc Coma have spent the last six years taking turns at winning the rally and do not seem to feel the burden of the years weighing on their shoulders. The two stars of this sport may very well end up crossing swords again, racing on identical KTM 450 motorcycles and with the same lieutenants as last year: Ruben Faria and Juan Pedrero, respectively. Racing in the same colours and being based in the same truck in the bivouac has provided an opportunity for the two Dakar favourites to smooth ruffled feathers. "We have toned things down a bit", explains Despres. Coma adds that "there is no need for sparks to fly between two sporting rivals". Although a quick glance at the rally's palmarès reveals that KTM's stars have the best shot at victory, their performances so far this year have exposed chinks in their armour which their rivals could exploit. Despres won the Rally dos Sertões but was later forced to abandon his last race in Australia, one of the few times in his career that he had to withdraw from a rally. Coma triumphed in the Pharaons Rally, the Rally di Sardegna and the Dubai Rally, but mechanical issues prevented him from finishing higher than 10th in the Morocco Rally, his last test before defending his title in South America.
All of their expected opponents respect Despres and Coma's supposed superiority, but that does not mean they are unwilling to put up a fight. The sole exception is David Frétigné, whose plans to return to the Dakar were frustrated by medical concerns that he has still not fully recovered from his hard fall at last summer's Rally dos Sertões. But that will not stop the Husqvarna team from coming with an impressive line-up, with Frétigné's substitute, José Manuel Pellicer, and especially with last year's special stage winner Paulo Gonçalves. The threat posed by Team Aprilia should not be overlooked, in particular Francisco López, who let slip the podium place he had got in 2010 in the last stage of the 2011 Dakar. "Chaleco", who has already recovered from his accident at the Tunisian Rally, has already shown his credentials as the master of the Atacama and is ready to make the difference there this year round.
Hélder Rodrigues may very well prove to be the most tenacious challenger. The Portuguese pilot finished third last year and won the 2011 Rally Raid Championship (after winning both the Tunisian and Moroccan legs of the competition). Team Yamaha also got a bumper crop this year with David Casteu (2nd in the 2007 Dakar and 4th in 2009) racing alongside Olivier Pain, who will be looking to play a leading role in the race with his improved 450 YZF. Finally, surprises may also come from up-and-coming young pilots, some of whom have the potential to duke it out for a podium place. A couple of examples are Quinn Cody, 9th last year in his debut with Honda, and Felipe Zanol, who spent an entire week hot on the footsteps of Cyril Despres to finish 2nd at the Rally dos Sertões a few months ago. The Brazilian pilot will tackle his first Dakar with the same ambition.
https://motorbugs.com/wp-content/uploads/Motor-Bugs-Logo-Transparent-height156px.png
0
0
The Motor Bug
https://motorbugs.com/wp-content/uploads/Motor-Bugs-Logo-Transparent-height156px.png
The Motor Bug
2011-12-22 02:27:47
2016-01-07 04:25:46
Dakar 2012. MOTORCYCLES: THE END OF A SERIES?