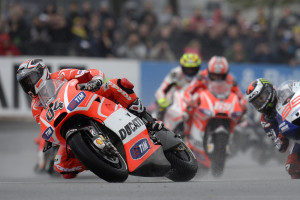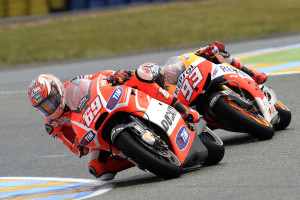 Ducati Team riders Andrea Dovizioso and Nicky Hayden turned in strong performances in unpredictable race conditions in the French GP, taking their Desmosedici GP13 machines to fourth and fifth place, respectively.
With the MotoGP riders having gone almost the entire race weekend at Le Mans with no wet riding, a light rain began falling shortly before the start, only to relent about mid-distance, creating the conditions for an exciting and eventful race. Dovizioso grabbed the top spot from the front row, and he led eight laps in the early going, fending off eventual winner Dani Pedrosa for some time before finally conceding the lead position. On a steadily drying track surface, the Italian began losing grip in the latter stages, but although he slipped out of podium contention with just two laps remaining, he was pleased to have ridden a steady and intelligent race for his best result of the season so far.
The same was true of Hayden, who had shrugged off a fourth-row starting position to advance to sixth place on lap one. The American ran as high as fourth before eventually slipping one spot near the end.
Andrea Dovizioso – Ducati Team, 4th
"It's always nice to be at the front of the pack! I'm really happy with my feeling with the bike, and as long as the tyres were decent, I was able to manage the situation well. Dani had more than I did, but I was still able to keep a good pace. We had good grip, which helped us to have a nice race, but as the track dried, the tyres began wearing a lot. I couldn't keep the pace in the last six or seven laps, and unfortunately, I wasn't able to make the podium. I'm sorry for the team about that, but we had a positive weekend in all aspects, even in the dry."
Nicky Hayden – Ducati Team, 5th
"Rain races are tough, especially when you don't have much time to set up the bike! I got a great start and picked up some positions in the first few corners. I didn't feel great at first, but I began to improve and was closing on the lead group when they were battling with each other. I really enjoyed that, especially when the track was pretty wet. Things got more difficult as it dried, but I was hanging in there. I was looking for a way past Rossi, and when he crashed, I picked it up and ran wide. I put my head down and tried to close the gap, but I made a mistake, and after Marquez got by, I just tried to stay up and get to the finish. Top-five is our best result of the season, but for a while, I thought I had a possibility to do something really good. Still, there were moments this weekend when we showed more potential than we have all year, and I'm really looking forward to Mugello."
Paolo Ciabatti – Ducati MotoGP Project Director
"We head home from Le Mans with some positive feelings. Both Andrea and Nicky had good races, and it was nice to see the Ducati at the front in a GP again, and fighting for the top positions for the entire race. This circuit is certainly suited to our bike's characteristics, but it was also easy to make mistakes in the wet conditions that began drying toward the end, so we have to be satisfied with the result. Our team really worked well this weekend, so I want to thank not just the riders, but also our technicians and engineers, as well as the guys from Ducati Corse in Bologna, for all of their efforts."
https://motorbugs.com/wp-content/uploads/Motor-Bugs-Logo-Transparent-height156px.png
0
0
The Motor Bug
https://motorbugs.com/wp-content/uploads/Motor-Bugs-Logo-Transparent-height156px.png
The Motor Bug
2013-05-19 16:52:15
2016-01-07 04:00:56
Convincing top-five finishes for Dovizioso, Hayden in French GP