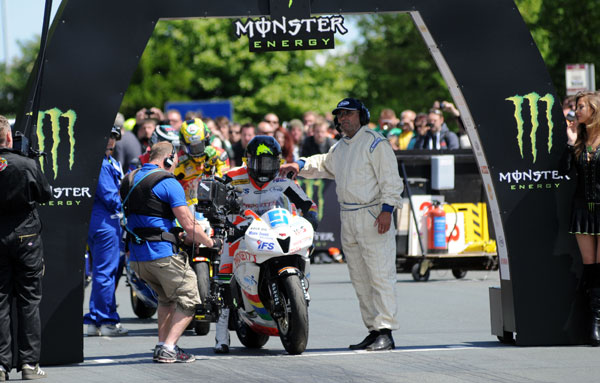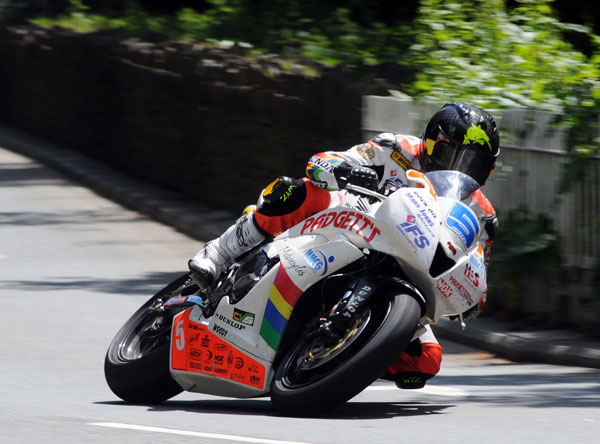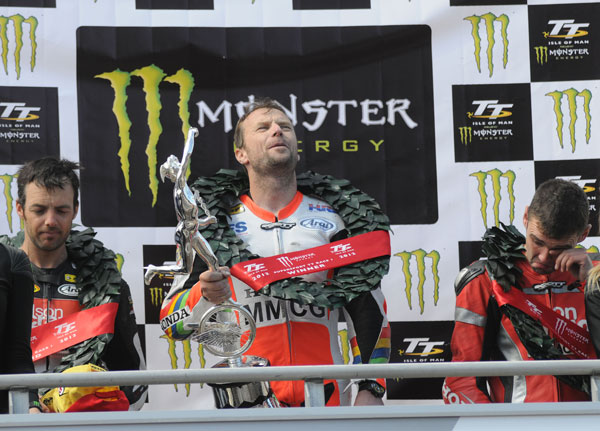 Bruce Anstey won one of the most thrilling races in Isle of Man TT history when he took the first Monster Energy Supersport race on Monday afternoon by just 0.77s from fellow Antipodean Cameron Donald. Once long time leader Michael Dunlop retired on the third lap, there was never more than a couple of seconds between Anstey, Donald and Gary Johnson with only the smallest margin – 0.62 – separating the trio at Ramsey Hairpin on the final lap. However, Johnson ran out of fuel on the final drop down the Mountain and Anstey's final lap of 126.634mph was enough for him to come home for his 9th TT win, ten years after his first back in 2002.
A road traffic accident caused a two hour delay to proceeding but, with conditions all around the Mountain Course perfect, when it did it was the two Dunlops, Michael and William that were fastest out of the blocks. Michael led through Glen Helen on the opening lap – albeit by just 0.25s and, in typical Supersport fashion, it was close across the top ten. Johnson was in third, 1.5s adrift, and he was followed by Donald, Anstey, Ryan Farquhar and John McGuinness with just a further 1.5s splitting 3rd to 7th.
Michael Dunlop was really pressing on and with a lead of 5.48s at Ramsey, it was almost inevitable he would lead at the end of the opening lap and this he duly did. A lap of 126.258mph gave him a 10.07s lead over new second place rider Donald with William just 0.35s back in third. Johnson, Anstey and local hope Dan Kneen completed the top six but it was still close with only six seconds separating second to eighth. One man not in the mix though was Guy Martin, the Tyco Suzuki rider pulling in at the end of the first lap and with Conor Cummins having again withdrawn from the day's racing, it wasn't a good day for the Irish team.
Irish eyes were smiling on Michael Dunlop though at the head of the field and with the fastest lap of the race, 126.948mph, his lead increased to almost 22 seconds at half race distance. Johnson took over the runner-up spot when they came into the pits to refuel and William was still in third with Anstey now up to fourth ahead of Donald. Kneen, McGuinness and Farquhar were still in contention and despite 75 miles having been completed, there was still only 11 seconds separating the seven riders in 2nd to 8th.
Things began to change on the third lap and when Michael Dunlop was reported late Glen Helen, it handed the lead to Johnson with an advantage of 3.5s over new second placed man Donald. Anstey was a further second back and William Dunlop a similar gap behind in fourth. McGuinness had overhauled Kneen by 0.3s to move into fifth whilst news came through that Michael Dunlop had stopped at Ballig Bridge.
As the leaders tore around the final 37.73 miles, positions were changing at almost every timing point and although the order remained the same at Ramsey, the gap between the trio was now a mere 0.62s. The race was anyone's but at the Bungalow, Anstey had taken over the lead as Johnson dropped back but as Donald crossed the line first, the result was still in doubt. Anstey flashed over the line to grab the win from Donald by 0.77s, the second closest finish after Mark Baldwin's 0.6s victory over the late Mick Lofthouse in 1995.
Johnson was in trouble though and as he ran out of fuel on the drop down the Mountain, he pushed in to eventually finish in 28th place and William Dunlop took advantage to clinch the final podium spot, his first top three finish around the Mountain Course. Farquhar overtook McGuinness as he circulated with Donald but the Irishman also ran out of fuel on the final lap at Creg ny Baa and so McGuinness took fourth ahead of James Hillier, who recorded his best ever TT finish, and the consistent Ian Lougher.
Roy Richardson, the first of the privateers, was a hundredth of a second back in seventh with the top ten completed by Dan Stewart, Ian Hutchinson and Ivan Lintin, the latter posting his best ever TT finish as well as a first ever 120mph+ lap. Daniel Cooper also had a great ride in 11th while other high profile retirements including Ben Wylie and Dean Harrison.
The results mean Anstey now leads the TT Championship with 41 points closely followed by Donald on 40 and McGuinness on 38. The Privateers Championship is now led by Stewart on 33 points followed by Richardson and Harrison who have 25 points apiece.
https://motorbugs.com/wp-content/uploads/Motor-Bugs-Logo-Transparent-height156px.png
0
0
The Motor Bug
https://motorbugs.com/wp-content/uploads/Motor-Bugs-Logo-Transparent-height156px.png
The Motor Bug
2012-06-05 04:49:00
2016-01-07 04:25:00
BRUCE ANSTEY CLINCHES THRILLING VICTORY IN MONSTER ENERGY SUPERSPORT 1 TT RACE