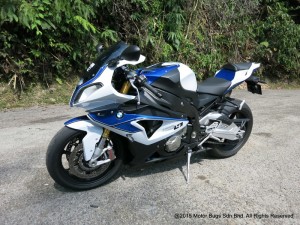 With great power comes great responsibility. That was what came to mind when I saddled up on the HP 4 and had a first taste of its power with just a slight twitch of the throttle. Do not let this beauty fool you for it is certainly not for the faint hearted nor for new riders who have no experience riding a super sports bike. This successor to the BMW S1000 has some insane power and although much of the bike is electronically assisted, you still need quite a bit of skill to tame it.
Coming in at 199 kg wet weight, with 193 hp under its 17.5 litres tank and kicking a max torque of 12 Nm @ 9,750 rpm, the guys at BMW Motorrad have indeed upped their game from the previous S1000 model. This High Performance (HP) 4 is lighter, faster and more technologically advanced although aesthetics-wise, it looks the same as the S1000. Its low weight-to-power ratio makes this one of the fastest motorcycles available in 2014.
The HP 4 power plant is a twin-cam, inline-4 engine, fuel injection and has a compression ratio of 13.00:1. Transmission is a constant-mesh 6-speed gearbox, straight-toothed with chain as the primary drive, while the clutch is wet multidisc anti-hopping, mechanically operated. The chassis is made of aluminum composite bridge frame while the rear has solid looking polished dual aluminum swing arm. On a narrow twisty uphill climb, the body seems a bit hard and rigid which affected its agility to switch corner directions quickly.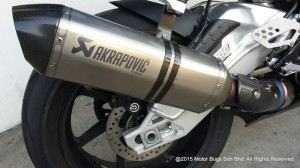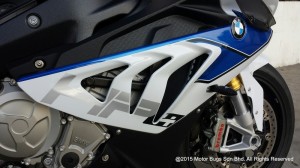 I was looking forward to test the electronic suspension which adjusts itself depending on the HP4's road speed, throttle position, lean angle, ABS, Traction Control intervention and rear shock movement. I was a tad disappointed as the 46 mm front upside down telescopic fork with dynamic damping control (DDC), adjustable spring preload, electronically adjustable damping is too hard for my liking. The setting is great for racetracks but on bumpy roads, the suspensions did not soften to the level that would make riding comfortable. The rear suspension also has dynamic damping control DDC (central spring strut) with adjustable compression and rebound damping, while spring preload is hydraulically adjustable.
To stop this World Superbike contender, the Motorrad boys have fitted the front with Twin 320 mm, 5 mm thick floating discs brake on four piston Monobloc Brembo fixed caliper, while the rear has a single 220 mm, 5 mm thick disc brake, single piston floating caliper. The new Monobloc Brembo was developed in the German IDM superbike championship.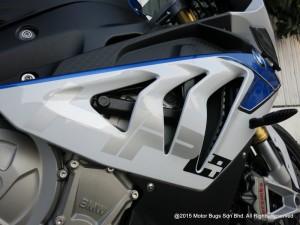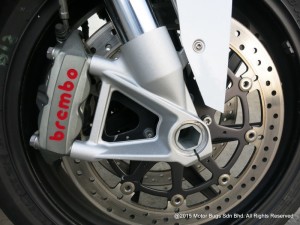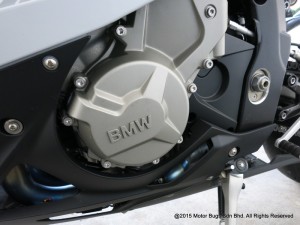 The HP4 has a new 15-stage traction control system with four riding modes (Rain, Sports, Race and Slick). I rode the HP4 downhill using "Rain" mode and the bike, which was fitted with Pirelli Diablo Super Corsa SP (Front 120/70 ZR 17 and Rear 200/55 ZR 17) performed exceptionally well. With the traction control activated, I hardly needed to hit the brakes going into corners. Engine braking was hardly felt when downshifting, the HP4 went into corners like a smooth flowing river. Equally impressive is the quick shifter making upshifting a real joy. However downshifting can be a bit tricky and needed some time to get used to as it may not engage if the throttle and engine are not in sync. Using the clutch to downshift was not as smooth as I expected. It felt like the clutch cable was going to snap at some point. Unfortunately I did not get enough test time on the HP4 to try the other riding modes.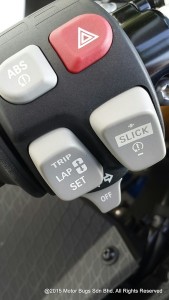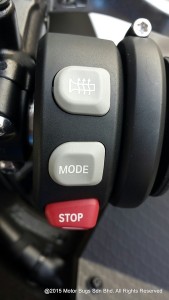 The instrument panel is nice and clear with an analogue rev meter and digital speedometer. Unfortunately there is no temperature and fuel gauge. The various settings available for the bike is also not idiot proof and owners need to read up the manual to get familiar with the know-how.
The HP4 is generally not a motorcycle for you to ride slow. At 120 km/h and below, there are vibrations felt on your hands. Also at low speed, the heat of the engine coming out from the shark gills on the right and single air outlet on your left do cause quite a bit of discomfort. Other than that, the BMW HP4 is indeed a beautiful and powerful motorcycle that attracts a lot of attention and one that bikers would be proud to own.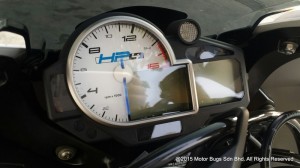 Motorcycle courtesy of BMW Malaysia.
Text by: Justin Hong.
Photos by: Jeremy Cheam
https://motorbugs.com/wp-content/uploads/Motor-Bugs-Logo-Transparent-height156px.png
0
0
The Motor Bug
https://motorbugs.com/wp-content/uploads/Motor-Bugs-Logo-Transparent-height156px.png
The Motor Bug
2015-05-21 11:30:24
2016-01-07 03:50:40
BMW HP 4 2014