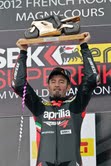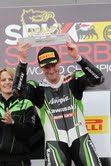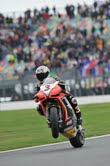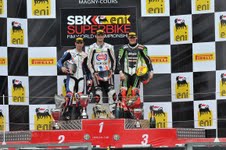 Magny-Cours (France), Sunday 7 October 2012 – The closest ever finish in the history of the Superbike World Championship came today at Magny-Cours when Max Biaggi (Aprilia Racing) ended the second race in fifth place and in doing so he ended up the season 0.5 points ahead of Tom Sykes (Kawasaki Racing Team).
Biaggi had fallen in the first eni FIM Superbike World Championship race of the day, leaving open a path of opportunity for Sykes and race one second place finisher Marco Melandri (BMW Motorrad Motorsport). With Melandri crashing out in spectacular style in race two it was down to Sykes to make the running and he did it in style after putting in his fourth race win of the year. Biaggi, receiving pit signals from his crew, had worked his way far enough forward to take the overall win and score his second SBK championship, adding to his 2010 season win, again for Aprilia.
Biaggi now has two world titles, 21 race wins, 70 podiums and five pole positions to his credit, and four 250GP titles to boot.
Max Biaggi: "This is the fourth world championship out of six that I have won at the final race, I seem to like difficult challenges! The 2012 season went right down to the wire: we started well with a win at Phillip Island after totally renewing my team and we also had some difficult moments. We had to work hard to win the title, and maybe for this reason it's even better. A big thanks to the Team, Aprilia and the Gruppo Piaggio, from President Colaninno to every factory worker, because my success is the result of the work of a great Italian company. Thanks also to my family, my fiancée and my two children, as well as Marino Laghi who is always present with me".
In the final championship rankings in 2012, Biaggi has 358 points, Sykes 357.5 and Melandri 328.5. Aprilia also won the Manufacturers' Championship today, by 23.5 points from BMW.
Race 1
An amazing penultimate race, held in wet conditions, saw early contender Biaggi fall on lap two and his two remaining championship rivals, Melandri and Sykes score podiums for second and third respectively. Guintoli continued his amazing form in privateer guise with a clear win, by over six seconds from Melandri and by over 16 seconds from Sykes. This was Guintoli's third win of the year.
Sylvian Guintoli: "What a race, It's been a great weekend for me, obviously with a wet race I knew I had a big chance, then got into my rhythm. When Marco came past it woke me up and I found some extra pace and then managed to pass Tom. I'm really happy to win in France after this crazy season with lots of ups and downs."
Results: 1. Guintoli (Ducati) 23 Laps/101.453 km in 44'06.299 average 138.016 kph; 2. Melandri (BMW) 6.127; 3. Sykes (Kawasaki) 16.595; 4. Berger (Ducati) 21.857; 5. Haslam (BMW) 25.149; 6. Badovini (BMW) 32.778; 7. Laverty (Aprilia) 34.311; 8. Giugliano (Ducati) 47.269; 9. Corti (Kawasaki) 49.720; 10. Baz (Kawasaki) 50.192; etc.
Race 2
Sykes did all he could in winning race two, impressively by 1.354 seconds despite pressure from behind for the whole race distance on a largely dry track. Jonathan Rea (Honda World Superbike Team) was second in the 23-lap race, with Guintoli third. Biaggi's team-mate, Laverty was fourth in the race, but Melandri crashed out of contention. Maxime Berger made it a happy day for the French with fourth on his Red Devils Roma Ducati.
Tom Sykes: "It's difficult to accept that half a point separates us in a full season, but that's all credit to World Superbike and how close it is. Max did a great job, but for me and my season I'm very happy, everyone gave me a full package to do something with and this weekend I was very strong. Overall we had a pole position, circuit record, two podiums and I'd like to dedicate that to Joan Lascorz, I've had some help from him this weekend. To close 30 points on Biaggi was magical. Now we're all signed and sealed for next year, hopefully we can deliver!"
Results: 1. Sykes (Kawasaki) 23 giri/101.453 km in 38'15.725 media 159.092 km/h; 2. Rea (Honda) 1.354; 3. Guintoli (Ducati) 2.393; 4. Laverty (Aprilia) 13.122; 5. Biaggi (Aprilia) 13.955; 6. Giugliano (Ducati) 18.229; 7. Checa (Ducati) 18.430; 8. Davies (Aprilia) 26.648; 9. Badovini (BMW) 33.809; 10. Camier (Suzuki) 37.217; etc.
Points: 1. Biaggi 358; 2. Sykes 357,5; 3. Melandri 328,5; 4. Checa 287,5; 5. Rea 278,5; 6. Laverty 263,5; 7. Guintoli 213,5; 8. Haslam 200; 9. Davies 164,5; 10. Giugliano 143; etc. Manufacturers: 1. Aprilia 444,5; 2. BMW 421; 3. Ducati 416; 4. Kawasaki 397,5; 5. Honda 293,5; 6. Suzuki 136.5.
World Supersport
Jules Cluzel (PTR Honda) took his fourth win of the year today at Magny-Cours as he made the best of a wet track and then a drying line around the 4.411km circuit. The French rider underlined his second place in the championship with Sam Lowes (Bogdanka PTR Honda) third overall in the points after finishing second today. Third place at Magny-Cours eventually went to Dan Linfoot (MSD R-N Team India Kawasaki) after he was knocked off by an attempted pass from new champion Kenan Sofuoglu (Kawasaki Lorenzini). Linfoot restarted to finish fourth but Sofuoglu was penalised 25 seconds and thus Linfoot was eventually third and Sofuoglu fourth. In the final championship table, Sofuoglu has 231 points, Cluzel 210, Lowes 172 and Fabien Foret (Kawasaki Intermoto Step) 171. Honda won the manufacturers' Championship by 14 points from Kawasaki.
Results: 1. Cluzel (Honda) 22 Laps/97.042 km in 42'20.985 average 137.487 kph; 2. Lowes (Honda) 1.591; 3. Linfoot (Kawasaki) 27.615; 4. Sofuoglu (Kawasaki) 27.854; 5. Foret (Kawasaki) 31.601; 6. Baldolini (Triumph) 46.745; 7. Scholtz (Honda) 50.820; 8. Antonelli (Yamaha) 50.934; 9. Talmacsi (Honda) 53.090; 10. Metcher (Yamaha) 55.664; etc.
Points: 1. Sofuoglu 231; 2. Cluzel 210; 3. Lowes 172; 4. Foret 171; 5. Parkes 135; 6. Morais 96; 7. Baldolini 96; 8. Quarmby 84; 9. Iannuzzo 60; 10. Antonelli 60; etc. Manufacturers: 1. Honda 287; 2. Kawasaki 273; 3. Triumph 125; 4. Yamaha 110; 5. Suzuki 6.
Superstock 1000
Sylvain Barrier (BMW Motorrad Italia GoldBet) survived a wet track and the pressure of racing for the championship at his home round to finish second at Magny-Cours and give himself an eventual clear championship win. His French countryman Jeremy Guarnoni (MRS Kawasaki) rode with confidence and pace in the wet to win the race, but main championship challenger Eddi La Marra (Barni Racing Team Italia Ducati) fell very early and lost his chance to get back into the race. Another potential champion Bryan Staring (Team Pedercini Kawasaki) fell early and rode hard to try and get back into contention. He finished fifth in the race and eventually fourth in the championship. The final points read Barrier 153, La Marra 130, Guarnoni 123, Staring 122.
Results: 1. Guarnoni (Kawasaki) 14 Laps/61.754 km in 28'12.230 average 131.374 kph; 2. Barrier (BMW) 9.862; 3. Savadori (Ducati) 20.703; 4. Lussiana (Kawasaki) 34.445; 5. Staring (Kawasaki) 37.916; 6. Bergman (Kawasaki) 39.886; 7. Jezek (Ducati) 43.775; 8. Millet (Kawasaki) 49.227; 9. Pagaud (Kawasaki) 49.678; 10. Reiterberger (BMW) 1'03.515; etc.
Points: 1. Barrier 153; 2. La Marra 130; 3. Guarnoni 123; 4. Staring 122; 5. Savadori 107; 6. Reiterberger 91; 7. Bergman 88; 8. Massei 71; 9. Coghlan 68; 10. Baroni 56; Manufacturers: 1. Kawasaki 193; 2. Ducati 181; 3. BMW 181; 4. Honda 71; 5. Aprilia 22.
KTM European Junior Cup
The final race of the year went to local rider Guillaume Raymond (Valliance Racing) but the championship win was still taken by Lukas Wimmer (MSC Schalchen), who crashed out and then remounted to finish third. Ilya Mikhalchik (Wind Racing) was second in the race, Gaston Garcia (KTM Espana) fourth. Wimmer took the title with 136 points to 111 for Garcia.
Results: 1. Raymond; 2. Mikhalchik; 3. Wimmer; 4. Garcia; 5. Demoulin; 6. Haquin; 7. Mettam; 8. Scarcella; etc.
Points: 1. Wimmer 136; 2. Garcia 111; 3. Orellana 81; 4. Vidal 73; 5. Wielebski 72; 6. Pasek 65; 7. Patterson 59; 8. Demoulin 59;
https://motorbugs.com/wp-content/uploads/Motor-Bugs-Logo-Transparent-height156px.png
0
0
The Motor Bug
https://motorbugs.com/wp-content/uploads/Motor-Bugs-Logo-Transparent-height156px.png
The Motor Bug
2012-10-08 02:45:21
2016-01-07 04:01:49
Biaggi champion again after closest ever finish