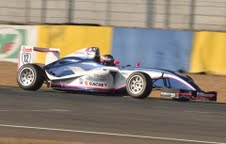 7th ROUND FRENCH F4 CHAMPIONSHIP: LE CASTELLET
DOUBLE PODIUM FOR SIMON GACHET
The final challenge of the French F4 Championship 2012 took place on the high tech circuit of Le Castellet.  For Simon Gachet, the "VOLANT EUROFORMULA" 2011, the stakes were high because he was only four points short of a podium at the start of the meeting. If he was to reverse the situation he would have to find the pace which made him one of the strong players at the start of the season. Mission accomplished for Simon Gachet who, after a nice comeback, crossed the finishing line in third place of Race 2, which definitely landed him in third place of the French F4 Championship 2012.
Yet the path which led the "VOLANT EUROFORMULA" 2011 to rise up on the podium was not easy. His free practice was disrupted with a mechanical problem and a drying track, where the last lap is crucial. Simon Gachet was on the starting grid of Race 1 and 2 in 7th and 4th place respectively.
The first race was difficult, a competitor in a 180 spin forced him to take the outer line of the Signe bend and he found himself down in 11th position before climbing back up to 7th place. Neck and neck with his direct opposition for the final podium, everything came down to the second race where the "VOLANT EUROFORMULA" had absolutely to get ahead of him, which he did!
Simon Gachet: "I am really happy with this third place in the championship even if I was aiming higher at the beginning of the season some poor performances decided otherwise. It's only my second season in motorsport and I know I still have a lot to learn. I want to thank all the people who have supported me, especially the EUROFORMULA school which allowed me to join the Auto Sport Academy, without who it would not have been possible."
"Rather it's us that thank him," says Laurent Fradon, the Director of the EUROFORMULA School, "he fully justified his title as he stepped up for 3rd place of the final podium. On top of that he never buckled under the pressure and showed the driving qualities we hoped he had. Do not forget that Simon doesn't have the same background as the rest of the competitors and he will not be able to show the full range of his abilities for another year or two. That also explains his lower results during the year. Simon will now do us the honour of coming to the grand final of the "VOLANT EUROFORMULA" 2012 which takes place on the La Chatre circuit on November 7 and 8."
Paul Loup Chatin's podiums in the ALPS 2011 and 2012 added to those of Simon Gachet in the French F4 Championship 2012, show that the winners of the "VOLANT EUROFORMULA" are among the best drivers in the country, nobody wins a "VOLANT" by chance!
https://motorbugs.com/wp-content/uploads/Motor-Bugs-Logo-Transparent-height156px.png
0
0
The Motor Bug
https://motorbugs.com/wp-content/uploads/Motor-Bugs-Logo-Transparent-height156px.png
The Motor Bug
2012-10-29 16:28:40
2016-01-07 04:01:01
7th ROUND FRENCH F4 CHAMPIONSHIP 2012