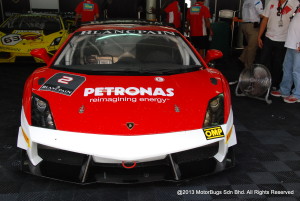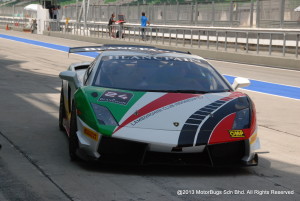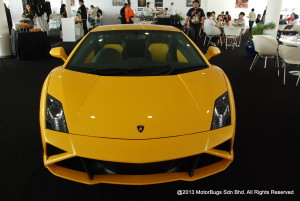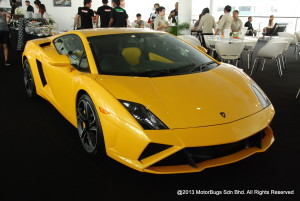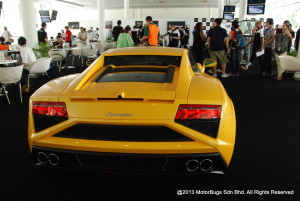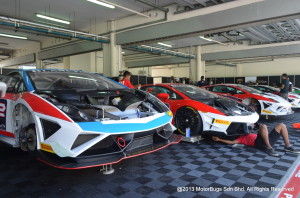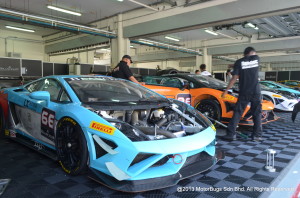 Coinciding with Lamborghini's 50th anniversary celebrations, The Lamborghini Blancpain Super Trofeo Asia series 2013 – organized jointly by Italian super sports car manufacturer Automobili Lamborghini and Swiss luxury watch maker Blancpain – represents a new era of motorsport and an ultimate life style experience. The event in Europe has already entered its fifth year, and has re-emerged for an exciting second season in Asia. Furthermore, Super Trofeo has made its way into the United States for the first time this year.
The Lamborghini Blancpain Super Trofeo features Lamborghini's permanent four-wheel drive vehicle, the Gallardo LP 570-4. This unique racing model enables gentlemen drivers to pursue the ultimate speed on an exclusive and competitive platform.
2013 Lamborghini Blancpain Super Trofeo Asia Series has a total of 6 stations. The series officially commenced in Shanghai, China on May 24th and continue in Sepang, Malaysia on June 28-30, and later making its presence in Inje, Korea, Fuji in Japan, and Shanghai once more before finishing at Macau's Guia Circuit in November. This season will succeed the spirit of the first Lamborghini Blancpain Super Trofeo Asia Series to provide gentlemen drivers from all over Asia with the ultimate lifestyle experience.
Review of past events
Launched at Hockenheim, Germany, on 25th October 2008, the European Lamborghini Blancpain Super Trofeo Series made its debut in 2009 at the UK's Silverstone circuit. The event has made considerable achievements since.
In its inaugural year Super Trofeo supported FIA GT, the world's leading sports car championship, and DTM, the most popular touring car series in Europe, visiting such iconic European circuits as Spa-Francorchamps and Monza. Here, 24 drivers of seven different nationalities secured a podium finish over the course of the season.
The series returned in 2010, with 51 drivers of 11 different nationalities taking part. Again the competition was tough, with five different teams claiming pole positions throughout the year.
At the end of 2011, the third season of the European Lamborghini Blancpain Super Trofeo Series made its presence across 6 world-renowned circuits including the notably challenging French Paul Ricard Circuit, before staging its perfect finale in Barcelona, Spain.
In 2012, Lamborghini Blancpain Super Trofeo first entered Asia to demonstrate its uncompromising style in 6 races at celebrated circuits. The number of media and fans were a firm reflection on the continent's yearning for exclusive and ultimate lifestyle racing experiences.
2012's inaugural race in Asia took place in Sepang, Malaysia, where drivers from China made a particularly strong impression on the development of China's passion for super sports cars, in addition to successful racing from Chinese teams finishing in the top 3 for both races.
During the formula Nippon Series, Fuji in Japan was next to host the Super Trofeo Asia Series 2012. Wet conditions tested the skills and adaptability of the Gentlemen drivers, which saw new faces and the same champions as in Sepang.
China hosted Super Trofeo for the first time in Ordos, in August 2012. Known as the first mountain circuit in China, Ordos enjoyed a highly competitive 2 races that saw warm temperatures fuse the tension of its eagerly awaiting China audience, and a Malaysian driver made champion in both races.
With a leader board firmly establishing itself across Asia, the race was on in Guangzhou as September saw the fourth round of the series at the increasingly more challenging venue of the Guangdong International Circuit. This competitive event saw new champions onto the podium from Singapore and Hong Kong.
Nearing the end of their racing Series, Gentlemen drivers now faced the F1 standard Shanghai International Circuit. Extremely close timings and a humid environment pushed racers into a fearful state of competitiveness that saw high-flying scores yet again from Singapore and Malaysia teams.
In November, the Shanghai International Circuit hosted the grand finale of Lamborghini Blancpain Super Trofeo Asia Series 2012. Chinese teams succeeded in winning the overall championship in both respective rankings, marking yet another impressive outcome for the 2012 series. This culmination of events demonstrated not only a successful impact on the Asian continent, but an exciting prospective for a new season in 2013 under the two luxury title sponsors Lamborghini and Blancpain.
2013 so far
May 24-26, Shanghai, China – In group A, the unforeseen triumph from race 1 victors Wiser/Jiang (#9) of China was matched with further excitement as 2012 champions Rizzo/Lok soared first across the finish line in race 2 to further strengthen their repute. In group B, Xu/Zhang (#7) of China won a comfortable first place in race 1, yet were refused such positioning in race 2 by Chou/Masahiko (#24) who maintained the lead throughout most of the race.
Race Format
Participants
The 2013 Asia Series allows only gentleman drivers to participate in the championship, competing individually or with a co-pilot.
Racing times
In order to provide greater familiarity with the circuits, the race format allows gentlemen drivers to spend more time on the track at the wheel of the Lamborghini Gallardo Super Trofeo.
Each race weekend is organized as follows:
• One practice session – 50 mn
• One qualifying race – 35 mn
• Two official races – 50 mn (each)
Compulsory Driver Change
For driving teams comprising two drivers, a compulsory change of driver from minute 20 to minute 30 during the official races adds another dimension to the competition: as the wheel passes from one driver to his team-mate, different levels of racing experience can lead to thrilling last-minute changes in the leader-board.
To maintain a fair competition, all driving teams, including teams represented by single drivers, must stop in the pit for a minimum of 1 minute during the driver change period.
Technical Specifications
The technical specifications of the Super Trofeo race car are the same for both Europe and Asia. Although a tyre change is not allowed in the Lamborghini Blancpain Super Trofeo competition, the car will be equipped with Monodado wheels to enable the fastest pit stop possible.
Provisional Teams
20 teams competing in this Year's Championship are from:
• Malaysia
• China
• Japan
• Hong Kong
• Taiwan
• Thailand
• India
• Indonesia
• Korea
• Sri Lanka
Calendar
Event 1: May 24-26 Shanghai, China
Event 2: June 28-30 Sepang, Malaysia
Event 3: August 09-11 Inje, Korea
Event 4: September 20-22 Fuji, Japan
Event 5: October 25-27 Shanghai, China
Event 6: November 08-10 Macau GP
World Final November 23-24 Rome, Italy
Sponsors
About Blancpain and Lamborghini:

For more than 5 years, the partnership between Blancpain and Automobili Lamborghini is stronger than ever. The Blancpain Manufacture in Le Brassus and Automobili Lamborghini in Sant'Agata Bolognese share common values such as reliability, precision and the transmission of know-how. The two Manufactures move in different circles, but are driven by a common passion for innovation and excellence.
The Lamborghini Blancpain Super Trofeo one-make race series will continue the series in the US for the 2013 season, following Asia in 2012 and throughout Europe since 2009.
Over 275 years of tradition in motion:
Founded in 1735 by Jehan-Jacques Blancpain, the watch brand bearing his name is the oldest in the world. Blancpain is currently engaged to the renewal of mechanical watchmaking and to passing on exceptional expertise from one generation to the next through constant investment in human resources, production facilities and research. This approach is its strength and the expression of our long-term vision, even though it goes against the tide of a certain tendency to seek immediate profit.
From the creation of components through to watch design, Blancpain is distinguished by its ability to develop exceptional movements. Over the past 8 years, the Manufacture has indeed developed no less than 29 new calibres.
Through its various models, Blancpain preserves its heritage of precision and elegance, while also displaying an innovative and occasionally provocative spirit. Its range encompasses the sportive L-evolution line, the legendary Fifty Fathoms diver's watch, as well as the classic Villeret collection, the high complication from Le Brassus collection and the feminine Women models.
https://motorbugs.com/wp-content/uploads/Motor-Bugs-Logo-Transparent-height156px.png
0
0
The Motor Bug
https://motorbugs.com/wp-content/uploads/Motor-Bugs-Logo-Transparent-height156px.png
The Motor Bug
2013-06-29 17:01:53
2016-01-07 03:57:29
2013 Lamborghini Blancpain Super Trofeo Asia Series