Video: Ducati Multistrada MT1200 2013 Ride in Malaysia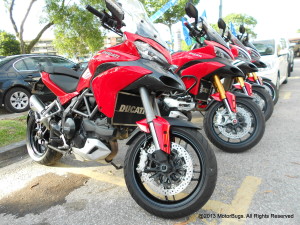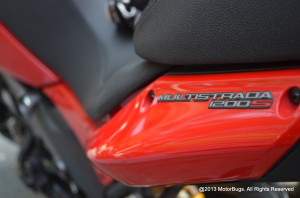 The designs of Dual purpose bikes are generally slanted towards practicality rather than beauty and it is usually a love – hate situation. That is until the Ducati Multistrada 1200 came into the market and got a lot of tongue wagging. It came with the "wow" factor and took the market by storm especially with the introduction of the MTS 1200 Skyhook. This beauty is no pushover as it comes with a brain. It bodes well with the tech savvy society that we are in and the abundance of features that come with the bike can be overwhelming for some.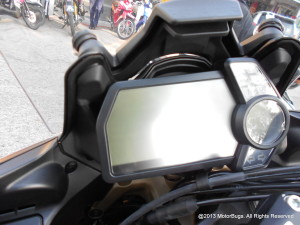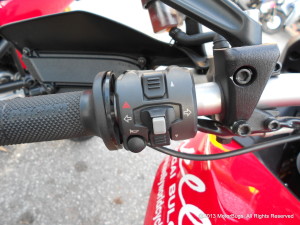 The LCD cockpit which gives high visibility in both day and night has all the primary and secondary information that a biker needs. From fuel gauge, clock, 2 trip meters, gear indicator, large RPM & speedometer, current setting on the riding mode (4 in total – sport, Urban, Touring and Enduro) ABS & DTC (Ducati Traction Control) to temperature (both engine and external), fuel range, average & current consumption, horsepower settings for all riding modes and load setting (The riding modes and load settings can be adjusted either in stationary or in motion). All these technical specifications can put lots of high end cars to shame.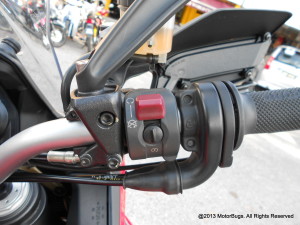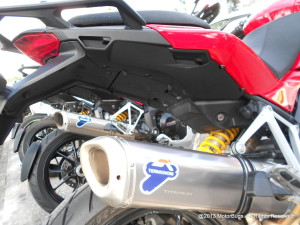 This Ferrari red MTS 1200 Skyhook comes with a keyless ignition and the way to start and turn off the engine is unconventional, something that bikers who are looking for a bike that is unique and with bragging rights can shout about. The test bike that was provided to me by Welly Sg. Buloh comes with a bad ass full system Terminogni, blasting out some serious heavy metal bass that can make any innocent bystander jump with a slight twist of the throttle. This Multistrada is the perfect bike for anyone who may not like the Torqueness of a V-Twin or the smoothness of an in-line engine as this beauty comes in-between and has the best of both engine configurations.
It is indeed a joy riding this bike and I am always looking for an excuse to take the long way home or to any destination for the matter of fact. The seat is firm but comfortable even on long rides and the handle bar is at the right length and height both on touring and sports riding. Moving around in heavy traffic on urban riding is also a breeze where you can even go through narrow spaces in-between cars where mopeds may not even slip through.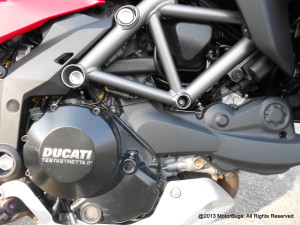 With 150 horses under the tank and a weight of 192kgs, this 1200 displacement is a power house with G-force kicking in with just a light twist of the throttle. I hardly need to downshift for fast overtaking and even at 50km/h on 5th gear, I can easily accelerate to 120km/h before I can count to 4. The engine has been improved with re-angled fuel injector nozzles and twin-plug cylinder heads for smoother, more efficient combustion. There's also a boost of up to five per cent in torque, which you don't really feel because the throttle response is smoother across the range. Ducati engineers decided to reintroduce the concept of Dual Spark (DS) to the 2nd generation Testastretta 11°DS engine with two spark plugs per cylinder-head providing a twin flame-front that ensures complete and efficient combustion across a shorter period of time.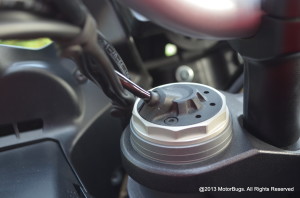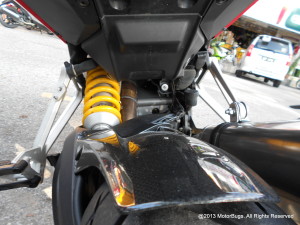 Handling is fantastic where sensors report on suspension movement, throttle opening, brake line pressure, speed and other parameters, and a central ECU will then strives to keep the bike as stable as possible by continuously altering the damping settings. The Skyhook system can switch from the softest damping to the firmest in 10 milliseconds in response to road condition. No manual tweaking to the suspension needed ever. It just rises to whatever challenge that's thrown at it. On versatility I would rate it a perfect 10. Bikers who always have trouble getting the right suspension settings would be pleased with Skyhook because it is like having a suspension expert working on your bike while you are riding. Configuring in real time to the correct settings according to road and riding conditions. On dependability concern, the Skyhook system uses off-the-shelf Sachs components that has been proven over many years
The "brain" that is in this MTS 1200 controls everything, from throttle response, engine peak performance, traction control and suspension settings. The Ride-by-Wire (RbW) system is an electronic interface between the twistgrip and the engine which decides the ideal power response depending on the Riding Mode selected and according to the rider's throttle input. The twistgrip no longer uses a throttle cable to control the throttle body butterflies, but instead delivers a signal to a control unit, which in turn operates the butterfly opening. The RbW system enables the use of three different mappings to regulate the power delivery. The three maps offer 150hp with a sports-type delivery, 150hp with a progressive delivery suitable for touring and 100hp with progressive delivery for city or off-road use.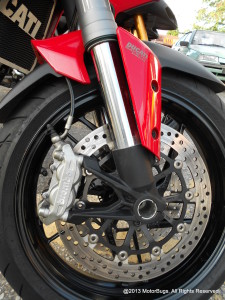 Braking muscle is through a front 320mm discs and a single 245mm disc on the rear that is gripped by a single Brembo caliper. Braking is smooth and predictable even on high speed. This MTS also comes with a Bosch-Brembo ABS system as standard equipment and can be disabled in all riding modes.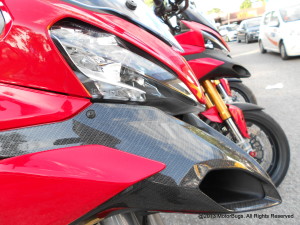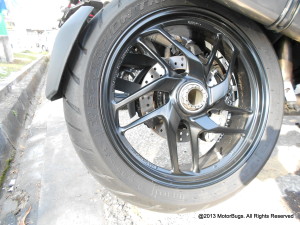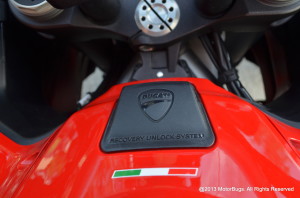 Improvements to this new model include a longer seat, larger front screen, larger cockpit storage, aesthetics on fairing, 1199 Panigale wheel style and a fantastic and highly effective front LED lights that makes your presence known to front motorists way before you reach their rear. This ground breaking front lights should be made available for all bikes as the vast majority of bikes in the market today are still using the conventional yellow beam. Going up on a mountain road on a pitch dark night was easy as visibility was good and clear.
There's a base MTS1200 without Skyhook but with the other mode changes, the sportier Pikes Peak and the Granturismo, which has larger panniers and screen. Overall this is one Dual Purpose / touring bike that is made to near perfection and is currently the leader its class.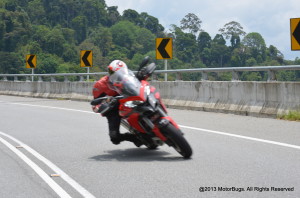 Comparison:
| | | | | |
| --- | --- | --- | --- | --- |
|   | Ducati Multistrada 1200 S Touring. | BMW R 1200 GS | Yamaha Super Tenere 1200 | Triumph Tiger Explorer 1200 |
| ENGINE | 1198cc. L-Twin cylinder, Desmodromic, Dual Spark, liquid cooled. 8 Valves. | 1170cc Air & Liquid-cooled. FlatTwin; DOHC. 8 valves | 1199cc, liquid-cooled, in-line 2 DOHC. 8 Valves | 1215cc. Liquid Cooled in-line 3. DOHC. 12 Valves. |
| POWER | 150 hp @ 9250 rpm | 125 HP at 6,500 rpm | 108 HP @ 7,250 rpm | 135 HP @ 9300rpm |
| WHEEL BASE | 1,530mm | 1,507mm | 1,540mm | 1,530mm |
| FUEL | 20 Litres | 20 litres | 23 litres | 20 Litres. |
| WEIGHT | Wet: 224 Kg. | Wet: 238 Kg | Wet: 261kg | Wet: 259 Kg. |
| TOP SPEED | 255 Km/h | 205 Km/h | N/A | N/A |
| PRIMARY DRIVE | Chain. | Shaft. | Shaft. | Shaft. |
| FRONT TIRE | 120/70 17 | 120/70 HR19 | 110/80R 19 | 110/80 R 19 |
| REAR TIRE | 190/55 17 | 170/60 HR17 | 150/70R 17 | 150/70 R 17 |
Bike courtesy of  Welly Sg. Buloh. Malaysia.
Photo and Text by: Justin Hong
https://motorbugs.com/wp-content/uploads/Motor-Bugs-Logo-Transparent-height156px.png
0
0
The Motor Bug
https://motorbugs.com/wp-content/uploads/Motor-Bugs-Logo-Transparent-height156px.png
The Motor Bug
2013-05-02 15:39:06
2016-01-07 04:00:43
2013 DUCATI MULTISTRADA 1200 S TOURING TEST RIDE.