Saturday Nov 05 2011
MOTOGP 2011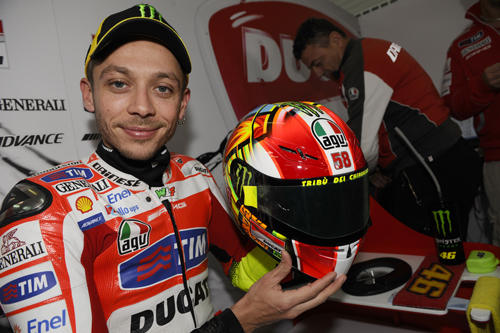 The MotoGP riders didn't have to face truly wet conditions during qualifying for the Valencia Grand Prix, as they did in both of the previous day's sessions, but the track was nonetheless cold and slippery, and very difficult to master.
Valentino Rossi and Nicky Hayden posted the sixth- and seventh-best times, respectively, and they'll start tomorrow's race from the second and third rows of the grid. Weather forecasts for the race are still uncertain, but both riders were fast in the wet on the first day, and they also have decent setups for the dry.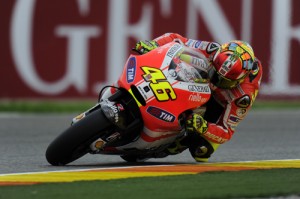 Valentino Rossi (Ducati Team) 6th (1:33.478)
"Today was decent. This afternoon's session was complicated because the conditions were mixed, making grip tricky, but in the end, I was able to do some good laps and improve my time, which isn't bad. I'm on the second row, and apart from Stoner, we're not so far from the others. I'm quite fast in T2 and T3, which are twisty, but I lose a lot in T1 and T4, where I have a hard time braking like I should, and where the bike tends to wheelie too much on acceleration. Honestly, T1 has always been difficult for me, through all the years that I've raced here. We'll see for tomorrow, especially concerning the weather. For now, the forecasts say it will rain, and if that's the case we could be competitive, but I think we could even do okay in the dry."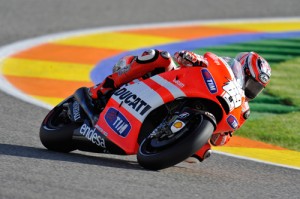 Nicky Hayden (Ducati Team) 7th (1:33.656)
"With the conditions, it wasn't easy for anybody to reach down and do a fast lap. The track was a bit damp at first, plus it was very windy and spitting rain. I did the first lap on rain tyres, but I came straight back in, and the team was ready with the dry bike. Despite the conditions, it was important to push right away, because we didn't know if heavier rain was going to come. The target was the second row, which we achieved at the last couple of races, but although we stayed in the top five for the first 20 minutes, we didn't go fast enough in the end. For tomorrow, we need to try to get more confidence in the front, to be able to attack the corners. It will be tough for the last race, like all of them, but we'll try to get a good, solid result."
https://motorbugs.com/wp-content/uploads/Motor-Bugs-Logo-Transparent-height156px.png
0
0
The Motor Bug
https://motorbugs.com/wp-content/uploads/Motor-Bugs-Logo-Transparent-height156px.png
The Motor Bug
2011-11-06 16:00:04
2016-01-07 04:26:00
18 Comunitat Valenciana GP : Qualifying : Second And Third Rows For Rossi And Hayden At Valencia