Suzuki Malaysia launches the Suzuki Raider R150Fi, GSX-R150 and GSX-S150.
With all the buzzing and hype about the new Suzuki models coming and yes, it's finally here -Suzuki Raider R150Fi , Suzuki GSX-R150 and GSX-S150. These are the 3 models which would be hitting the roads very soon. Just to give you a heads up, there will be many newer models coming soon (Info from deep deep inside Suzuki Malaysia)
Official Launch Price: –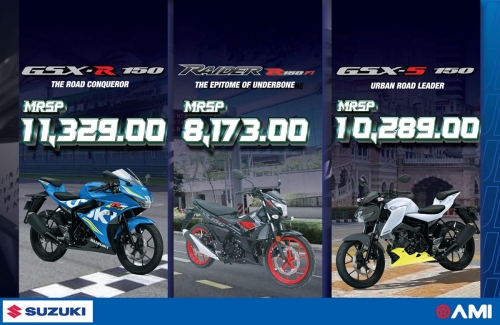 As we all know there are a few competitors for the 150-cc market segment for Suzuki, such as Honda RSX – RM 8,688, Honda CBR150R – 12,499, Yamaha Y15zr – RM8,168, Yamaha Y16ZR – RM10,888, Yamaha MT15 – RM11,988. This may be a game changer for some.
A quick run through on the specs – the GSX-R150, GSX-S150 & Raider R150 Fi (aka Belang) all share the same power plant, a 147.3cc, DOCH, single cylinder and water cooled. The Raider R150 Fi has a claimed 18.2hp /13.8Nm /109kg which is the highest amongst its rivel out there. As for the GSX-R150 & S150 they both have the same power output – 19hp with 14Nm of torque and weighing 131kg.
During the launch Suzuki Malaysia also revealed an Azlan Shah AS25 special edition (300 units only) which was done up by AMITEC. The bike comes with several upgraded accessories and performance parts from Racing Boy, ergonomic changes done by AMITECH with inputs from Azlan Shah and as for the engine it remains the same. Bike is priced at RM11,988 without insurance n road tax.
A big congratulation to Suzuki Malaysia on their successful launch.
Credits : Photos and content courtesy of Jeya Cactus