Suter Racing Confirms Debut for MMX 500 at Isle of Man TT Races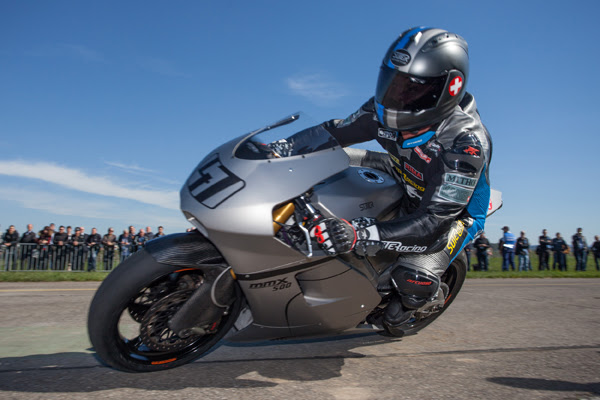 Swiss racing motorcycle manufacturer Suter Racing has confirmed that it will make its debut at the 2016 Isle of Man TT Races fuelled by Monster Energy. The company has built the Suter MMX 500, a 580cc two-stroke engined machine, which it will campaign in the RST Superbike and PokerStars Senior TT Races.
The spectacular two-stroke motorcycle has already generated significant excitement with motorbike fans around the world and was named as 'the most desirable motorcycle' at the 2015 Eicma Motorcycle show in Milan.
The Suter MMX 500 was launched globally in September 2015 at the Airforce Center Dübendorf in front of 300 invited VIP guests. The company has developed only 99 racing motorcycles, aimed at the wealthy private amateur racer, at a price of CHF 120,000 (£85,000, $125,000, €109,000).
Ex GP rider and CEO Eskil Suter commented: "A launch of this nature with a limited run of motorcycling would ordinarily not be spectacular but the fact that the Suter has a 580cc two-stroke engine evokes almost hysterical emotion with the association of the wild days of 500cc Grand Prix racing where legends like Kenny Roberts, Eddie Lawson and Wayne Gardner, just to name a few, regularly fought thrillingly for podiums and against crashing. The furious power explosion of the former two-stroke bikes was still memorable to real fans and is considered the golden age of motorcycle racing."
He continued: "However, these motorcycles were never readily available. Suter has awakened this charismatic era with the MMX 500 bringing those GP bikes back to life in a modern context. We are equipping the MMX 500 engine with high-end components, of which one could only dream of back in the days of 500cc racing, including an electronic fuel injection, for example, and counter-rotating crankshafts."
Eskil Suter is convinced that his bike can perform well against the Honda, BMW and Kawasaki superbikes. He commented: "Suter has built up knowledge and understanding on the specifications in recent years, by constructing modules, complete motorcycles or as supplier to all Grand Prix classes."We have a phenomenal good power to weight ratio. She drives like a bicycle with rocket propulsion."
"In collaboration with a renowned university we have found solutions to adapt the delicate exhaust construction and get it under control", said Eskil Suter. "and that's the reason why we want to go to the toughest road race in the world. For us this is the perfect testing ground. The Senior TT, over six laps of the 60km long Snaefell Mountain Course, is just something for the toughest guys among the racers. I'm known indeed to be quite fearless," said Eskil Suter, "but the TT is now something where I would definitively prefer another let go first as a rider."
"We are currently negotiating with two former TT winners," confirmed Suter's Marketing Director Phillip Soutter. "We want an experienced rider and the best suited to us would be an old TT-warhorse."