Pirelli SCORPION™ Trail II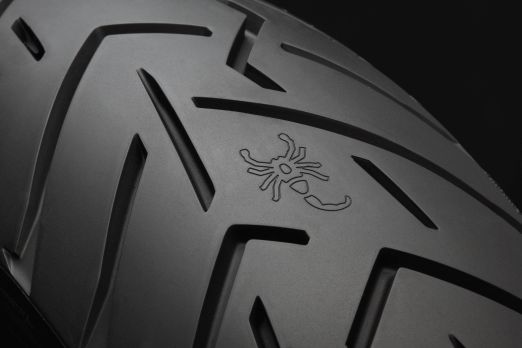 Milan, 18 May 2016 – Pirelli SCORPION™ Trail II is the best enduro street tyre on the market. Proclaiming this is the prestigious German magazine Motorrad, which has completed a comparative test of the best enduro street tyres available for sale.
The victory in the 2016 test is confirmation for Pirelli. The SCORPION™ Trail II had already been voted best enduro street tyre in the 2015 edition of the same comparative test, and this second success further reinforces the supremacy of this tyre in its segment. It also highlights, after one year since being introduced on the market, that no other tyre manufacturer has been able to match the performance offered by the technological solutions developed by Pirelli.
Specifically, the enduro street comparative test was published in the 11/2016 release of Motorrad currently on newsstands. The editorial staff of the magazine compared the tyres from six manufacturers in sizes 120/70 R19 front and 170/60 R17 rear mounted on the current model of BMW R 1200 GS.
SCORPION™ Trail II was the winner in three out of four of the tests performed: daily use on provincial roads in new conditions, wet testing and evaluation of the behavior after 4.000 kilometres of use. And in the last test, the evaluation of the tread wear, it finished second just behind the METZELER TOURANCE™ Next.
In each test different parameters were evaluated and a numeric value assigned. In total, a maximum score of 500 points was available.
Below is the final ranking and score:
1) Pirelli SCORPION™ Trail II                                                458/500 points
2) Metzeler TOURANCE Next                                                 446/500 points
3) Bridgestone Battlax Adventure A 40                                  429/500 points
4) Continental Trail Attack 2                                                     425/500 points
5) Dunlop Trailsmart                                                                  414/500 points
5) Michelin Anakee III                                                                414/500 points
From the article, we learn that the Pirelli SCORPION™ Trail II has positively impressed theexperienced testers of Motorrad for its riding precision combined with an exceptional stability and a consistent sporty behaviour after many kilometres. The first-class wet behavior was further evidence to decree SCORPION™ Trail II the best in its segment.
SCORPION™ Trail II is in fact the fusion of two worlds: the field of off road competition and the road trip. Designed for the most demanding motorcyclists, it features key points of excellence; high mileage, consistency of performance for its entire tyre life and fantastic wet behaviour.
SCORPION™ Trail II is the Pirelli tyre specifically designed to meet the most demanding expectations of this market, with an aggressive tread pattern supported by strong technological innovations, giving good stability even at high speed, traction on dirt, handling, comfort and grip in all riding conditions.
SCORPION™ Trail II is available in the following sizes: