Ian Hutchinson Qualifying session sees unofficial lap record on Superstock Bike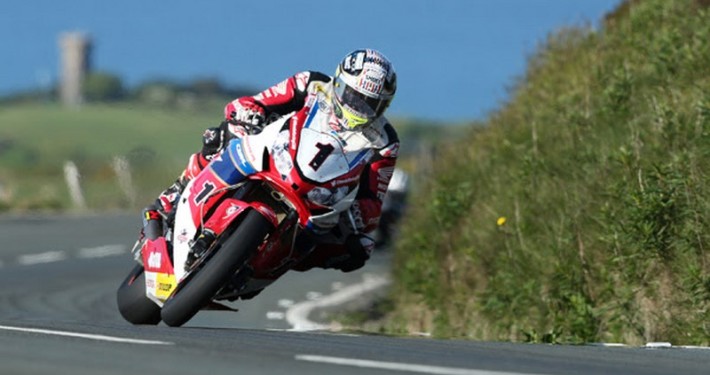 For the sixth successive evening, conditions were perfect for the final night's full qualifying session at the 2016 Isle of Man TT races, fuelled by Monster Energy, and it proved to be the fastest session ever witnessed around the Mountain Course as Ian Hutchinson lapped inside John McGuinness' outright lap record – on his Superstock machine!!
Hutchinson was at record breaking speeds from the off and, using his Tyco BMW Superstock, he lapped at 131.632mph from a standing start, which was comfortably inside the class lap record and quicker than Michael Dunlop's lap the night before. However, his second lap was simply sensational as he lapped at 132.803mph, 0.786s quicker than McGuinness' time set in last year's PokerStars Senior TT race.
And despite it being the night before the first race, it was also a record-breaking evening for Michael Dunlop as he too was inside the outright lap record lapping at 132.754mph on his Hawk Racing BMW Superbike. He then jumped on his Superstock bike to post a speed of 131.632mph.
The session started promptly once more at 6.20pm with James Hillier and Hutchinson the first two riders to get away, soon followed by Steve Mercer and Gary Johnson, Michael Rutter and Martin Jessopp, and Bruce Anstey – none the worse for his spill on Thursday – and Peter Hickman.
Dean Harrison was one of the few front-runners who elected to go out on his 600 with John McGuinness in the 11th pairing away, intriguingly just behind Dunlop. However, Hickman was soon back at the paddock, clearly having pulled off the course early on.
Hutchinson was blazing a trail on the road, leaving starting partner Hillier some 30 seconds behind and the Bingley rider was first back to the Grandstand with a stunning speed of 131.632mph, comfortably inside Dunlop's Superstock lap record of 131.220mph set in 2013.
Dunlop had a relatively slow lap at 124.806mph but Harrison was flying on his 600, lapping at 126.249mph to go to the top of that particular leaderboard. David Johnson also set a new fastest lap on the Norton with his opening lap of 128.533mph while he was also fastest through the speed trap at 194.5mph.
Second time around, it was clear both Hutchinson and Dunlop were on record-breaking pace and their lap times were only 0.375s apart although Hutchinson's lap on his Superstock bike was the one that truly stunned the watching crowds and send shockwaves through the paddock.
Harrison went back out on his Superbike to post a lap of 129.996mph with Rutter putting two more laps in excess of 129mph, the quickest being 129.613mph, the duo going third and fourth on the Superbike leaderboard for the night.
Jochem van den Hoek was again the fastest newcomer, improving his speed to an impressive 121.06mph, but Seamus Elliott and Alessandro Polita were also going well at 118.75 and 117.95 respectively. Michael Booth also improved considerably, with his best lap being 116.65mph.
The scene is set for a thrilling RST Superbike Race, the first race of the 2016 Isle of Man TT Races fuelled by Monster Energy which is scheduled to get underway at 11am (GMT).