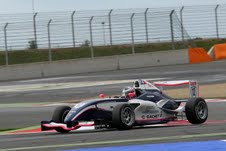 It had all started so well for Simon Gachet, the "VOLANT EUROFORMULA" 2011. Indeed, after some solid qualifiers in which he placed himself brilliantly in fourth and third place on the Navarra circuit in Spain, which he was discovering for the first time, Simon fought two difficult races and finished in seventh place in the first and 14th in the second.
These two counter-performances, unusual for the "VOLANT EUROFORMULA" 2011, will sadly see him drop to fourth place in the provisional  general ranking of the French F4 Championship and the next meetings are therefore going to be decisive if he hopes to regain his place in the top three.
Simon was confident though and happy with his qualifiers but it all went off track after that, as he told us pragmatically, which is a virtue of great champions:
"In the first race I clocked up the faults which made me drop down throughout the race. I can only blame myself. Same for the second race where, after an average start, another competitor collided with me in the second lap. I have to clear my head and concentrate now on the next two meetings as they will be crucial if I want to be runner up  in this championship. I would like to thank all the people who watched me from their computers, I hope I haven't disappointed them too much! I can't wait for the next meeting in Le Mans so that I can get back into the pack lead."
For Laurent Fradon, the director of the EUROFORMULA school, this type of situation is run-of-the-mill for a driver who, let's not forget it, was playing rugby just two years ago:
"This type of counter-performance is a risk with Simon because, even if he learns fast, he still lacks the experience compared to his young friends who have several years of competition in their pocket. Simon is quite capable of doing his own self-analysis and see why it went wrong this weekend. He will know how to bounce back in the next meetings and it is still possible to take back second place in the championship. He has huge potential and we have confidence in him because nobody ever wins a "Volant" by accident."
The next challenge takes place "at home" on the Bugatti circuit of Le Mans on September 29 and 30. It's an important meeting and we can bet that Simon Gachet will be there!
http://motorbugs.com/wp-content/uploads/Motor-Bugs-Logo-Transparent-height156px.png
0
0
The Motor Bug
http://motorbugs.com/wp-content/uploads/Motor-Bugs-Logo-Transparent-height156px.png
The Motor Bug
2012-09-10 11:47:12
2016-01-07 04:12:10
5th ROUND FRENCH F4 CHAMPIONSHIP 2012